Revisioning what we mean by "A Just Transition"
Posted by: Mikaela Curry, Trinidad Jackson, Tona Barkely, Nikita Perumal, and Lisa Abbott on April 17, 2020 at 03:40pm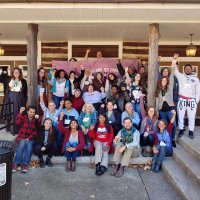 The Empower Kentucky Leadership Network – a cohort of 40 grassroots leaders across Kentucky dedicated to growing a stronger movement for Just Transition and climate justice – had its first gathering in Bowling Green in early November 2019. Among many resources provided to the cohort during this weekend was the KFTC document "Appalachia's Bright Future – Working Together to Shape a Just Transition." This document was created in 2013, but is still frequently used to reflect KFTC's work related to Just Transition. 
During a generative group discussion at this first gathering, a member of the cohort pointed out that there were problematic aspects of this document. For instance, the document's list of frontline communities whose leadership should be centered in a Just Transition did not include people of color. The document also included a photo of a KFTC member of color who had been a strong leader in KFTC's just transition work, but the lack of actual content emphasizing the importance of centering racial justice made the image feel tokenizing in nature.
Questions arose as to how these problems might be addressed, and a working group formed to work on a revisioning process for this document. It is not that unusual for organizations to find problems like this identified, even with the best of intentions, and KFTC is no exception. But often these mistakes go unchecked, or the problematic document or process is redacted once the problem is identified. But what if part of the work that we need to do around these issues is to have more dialogue about it – about how it came to be, and how we move forward differently? What might it look like to have a transparent process that allows us to work forward through these issues?
Inspired by these questions, a small work team of leadership cohort members formed to create a process that could both address the immediate needs relating to the 2013 document, and also root our organization more fully in accountability and transformation. Such a process feels particularly important given that another main piece of KFTC's work this year is an organization-wide Racial Justice Transformation. 
The tentative goals of this process, as identified by the work team, are for KFTC to:
engage in an open, inclusive, transparent process to update and affirm a broadly shared description of our Just Transition vision, principles and platform

to do so in a way that repairs and builds relationships and builds understanding, ownership, power, and trust across diverse frontline communities and constituencies within Kentucky

to do all of the above in a way that generates useful materials for communicating broadly and engaging new folks in the work of making Just Transition real in our lives and communities.
So, we are starting here, with this clear documentation of our process and why it is needed - to let you know what we are doing and to be transparent. We will reach out soon (and often) to make sure KFTC leaders and directly impacted folks have the opportunity to contribute to this process. For now we invite you to share your questions and ideas with us by emailing [email protected] or calling 502-554-6633.
May 16, 2021
| Lexington Herald-Leader
April 27, 2021
| The Courier-Journal
April 8, 2021
| Lexington Herald-Leader
Featured Posts
Bonifacio Aleman on September 26, 2023
Bonifacio Aleman on September 26, 2023
Bonifacio Aleman on September 26, 2023
© 2023 Kentuckians For The Commonwealth