Right now, it's (digital) Go Time. Your help is essential.
Posted by: KFTC Staff on May 8, 2020 at 01:57pm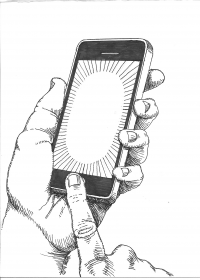 One thing that hasn't changed is that the elections this year matter. A LOT. Actually, they probably matter more than they did before the pandemic. The stakes are high for our own lives, our loved ones, and Kentuckians everywhere that are struggling. We need secure income, health care, housing, clean air and water. We need a fair democracy. To have that, we need to choose candidates that know our struggles and will show up for our values. We can still make this happen, even during a pandemic.
We're re-focusing on digital organizing as the key way to engage people we know and people we don't know. It's a fact: people are much more likely to vote if they are contacted directly and often by someone they know or that looks/talks/lives like them. This is called relational organizing. 
Four ways to organize in this digital, important moment:
Join a Jumpstart Call for volunteers EVERY TUESDAY from 7 p.m. to 8:30 p.m. ET / 6 p.m .to 7:30 p.m. CT. Get inspired, get oriented, build community. Learn about ways to volunteer safely from home and choose options that work best for you. Happening every Tuesday between now and the June 23 primary.
Help us call Kentucky voters. Tech needed: you have access to a telephone. Smartphone or landline work. Access to the internet is great. If you don't have internet access but want to make phone calls, email Jess Hays Lucas at [email protected]. 
Register, inform and inspire your personal network to vote. Another fact: folks are 2 times more likely to turnout and vote if they get a turnout message from someone they know, versus a random organization. We are using an app called EMPOWER (MyRVP). Tech needed: access to a smartphone that can download an app OR a computer that can access web pages. Email Lisa Abbott at [email protected] to get started. 
Join one of our social media hype teams! Create content with other KFTC members about getting registered, voting by mail, and supporting progressive candidates. Email Meredith Wadlington at [email protected] if you're interested. Tech needed: access to the internet, computer or smartphone.
May 16, 2021
| Lexington Herald-Leader
April 27, 2021
| The Courier-Journal
April 8, 2021
| Lexington Herald-Leader
Featured Posts
Meredith Wadlington on September 22, 2020
Lisa Abbott on June 9, 2020
Caitlin Sparks on May 9, 2020
© 2023 Kentuckians For The Commonwealth