Rowan chapter offers festival- goers healthy food options
Posted by: Annie Adams on October 11, 2015 at 10:01am
The Rowan County KFTC Chapter held its second fundraiser of the year at the Cave Run Storytelling Festival, September 25 and 26.  The chapter was one of many food vendors at the popular festival, vendors that included professional carnival merchants as well as volunteers from other nonprofits, such as the Boy Scouts of America.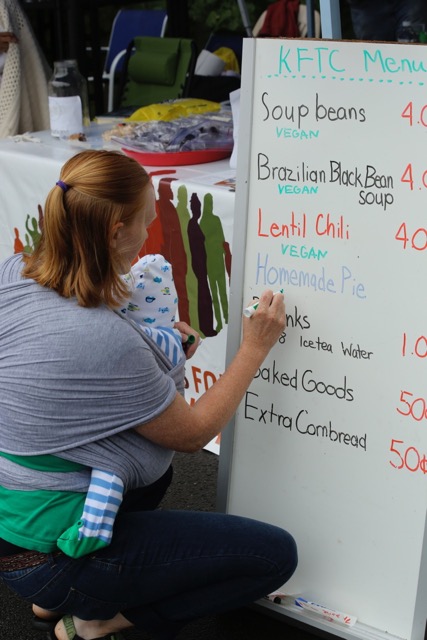 What set the relatively modest KFTC booth apart from both the food trucks and the nonprofits with bigger tents was its range of healthy, homemade food options that were reasonably priced. 
For only four dollars, festivalgoers could get a big bowl of soup beans (vegetarian or with meat), lentil chili, African peanut stew, or Brazilian black bean soup and a generous helping of corn bread (sweet or non-sweet).
For three dollars, the storytelling crowd could get a delicious piece of homemade cushaw or apple pie; for one dollar, they could get a gluten-free muffin; and for fifty cents they could get (gluten-free or non-gluten free) cookies or brownies. 
Although the damp and chilly weather adversely affected attendance, and the KFTC booth was positioned near the end of the food gamut (and thus relatively far away from the tents where the storytelling took place), the chapter sold out of a number of items, including the lentil chili, non-vegetarian soup beans, African stew and pie). 
A number of festival-goers were particularly delighted with the healthy options, and they were pleased to see so many vegetarian, vegan, and gluten-free options.  This response confirmed what some members of the Cave Run Storytelling Board have been telling chapter members for the past few years – there is a real appetite for delicious and healthy food offerings at the festival.  Some of the children and adults may be content with only spiral spuds, deep-fried baked goods, and various meats on white buns, but a number of attendees want a range of options that include hearty whole foods like the ones the Rowan County chapter provided.
Invited back for next year, chapter members look forward to fine-tuning their offerings and (hopefully) benefiting from better weather.
May 16, 2021
| Lexington Herald-Leader
April 27, 2021
| The Courier-Journal
April 8, 2021
| Lexington Herald-Leader
Featured Posts
Meredith Wadlington on September 22, 2020
Lisa Abbott on June 9, 2020
Caitlin Sparks on May 9, 2020
© 2021 Kentuckians For The Commonwealth