SOKY chapter creates People's Guide to Planning
Posted by: KFTC Staff on July 19, 2021 at 12:00am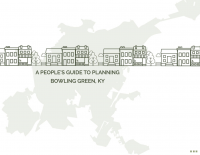 From protecting natural resources to building apartment complexes, decisions about our communities and day to day lives happen through local planning and zoning. We see the impacts of these decisions when Black neighborhoods face displacement, when gentrification pushes the working class out of affordable housing, and when pollution in our air and water hurts our bodies. While planning processes are designed to shape the future of Kentucky cities, planning and zoning are often difficult for the public to offer input into and to navigate.  
SOKY KFTC member and Master of Urban Planning, Tara Sorrels, set out to create a People's Guide to Planning – a tool to help the Bowling Green community navigate our planning and zoning processes. Over the course of 6 months, Tara did meticulous research into our local planning systems and structures, including reviewing our existing Comprehensive Plan, finding relevant case law, and talking with the chair of the city-county planning commission to ensure a complete and precise view of Bowling Green planning. 
A People's Guide to Planning will help us understand and identify important changes and decision points in our city. It will also support our chapter as we use our position as stakeholders in the comprehensive plan update to make recommendations that align with our vision, and help us to express them in the appropriate terms and format. 
We're proud of A People's Guide to Planning, and can't wait to express our vision for our city by influencing planning and zoning processes to align with our interests. Check out the full guide here.
May 16, 2021
| Lexington Herald-Leader
April 27, 2021
| The Courier-Journal
April 8, 2021
| Lexington Herald-Leader
Featured Posts
Meredith Wadlington on September 22, 2020
Lisa Abbott on June 9, 2020
Caitlin Sparks on May 9, 2020
© 2023 Kentuckians For The Commonwealth