STAY Together Appalachian Youth 4th Annual Summer Institute
Posted by: Tanya Turner on June 30, 2014 at 04:26pm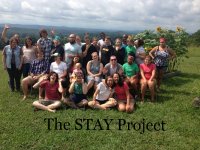 The STAY (Stay Together Appalachian Youth) Project will host the 4th Annual STAY Summer Institute (SSI) from July 31 to August 3 at Camp Bethel in Wise, VA.SSI is STAY's largest gathering of the year and is open to 14-30 year olds from Central Appalachia, including eastern Kentucky, eastern Tennessee, West Virginia, southwest Virginia, and western North Carolina.
The STAY Project is a diverse regional network of young people throughout Central Appalachia who are working together to advocate for and actively participate in their home mountain communities. STAY is about the need for communities now and in the future to have the basic human rights that everyone deserves no matter where they live, their economic background, their race, language, religion, sexual orientation, gender identity or cultural background.
Kentuckians have provided significant leadership to build The STAY Project since it began as a conversation among young people attending the 2007 Appalachian Studies Association Conference.  The first Summer Institute was held in Harlan County back in 2011 with several young Kentuckians leading the way.  The Institute has grown steadily since then through identity expression, youth-led workshops and skill shares on art, music, & storytelling, and community building through economic, environmental, and social justice in the mountains.  This summer in Southwest Virginia should be packed with Kentuckians since its just over the state line, minutes from Letcher County!
KFTC is once again offering full scholarships and travel assistance for 10 young KFTC members in the mountains.  If you are interested in one of these slots, know someone who is, or would like to provide additional scholarships, please contact [email protected] or call the Whitesburg KFTC office at 606.632.0051 by Monday, July 14.You may also use this link to submit proposals for workshops at the Summer Institute.
May 16, 2021
| Lexington Herald-Leader
April 27, 2021
| The Courier-Journal
April 8, 2021
| Lexington Herald-Leader
Featured Posts
Meredith Wadlington on September 22, 2020
Lisa Abbott on June 9, 2020
Caitlin Sparks on May 9, 2020
© 2023 Kentuckians For The Commonwealth