Steering Committee discusses legislature and organizing in eastern Kentucky
Posted by: KFTC staff on April 4, 2018 at 02:35pm
The KFTC Steering Committee met in Berea at the end of March to discuss the 2018 General Assembly session and KFTC's organizing and Just Transition work in eastern Kentucky.
As the meeting was called to order, Steering Committee members revisited key questions that members asked during a leadership summit immediately following the 2016 elections: "what happened, why, and what's next?" The Steering Committee revisited these same questions as they apply to the 2018 General Assembly session, while emphasizing the longer term trajectory that led to the legislative actions taken at the end of March.
Committee members noted that the leadership summit highlighted a set of imperatives to guide KFTC's work moving forward. Committee members lifted up that one of the key purposes underpinning the conversations at the leadership summit was to shift the political landscape in Kentucky.
In light of multiple recent actions taken by the legislature, committee members reemphasized the importance of this underlying purpose of KFTC's work. Mary Love of Oldham County noted that KFTC needs to continue to "empower people who haven't been involved in anything before."
Committee members lifted up several bills for further discussion: including a youth incarceration bill, an anti-rooftop solar bill, and pension and tax legislation. They discussed ways that KFTC's Action for Democracy (voter empowerment) work during the General Assembly strengthens visionary grassroots power and helps build a united front.
Wendy Warren of Madison County emphasized that actions taken by legislators around public worker pensions are "part of a wider national move to get rid of public education in this country."
Russell Oliver of Perry County noted that attacks on teachers and all public workers is discouraging. "If it wasn't so sad, you can almost make a joke out of the whole thing. It's so ridiculous," he said.
Robby Olivam of Jefferson County stressed, "They [legislators] are a bit backed into a corner. This can be dangerous, but may also bring new allies into the work."
After discussing the General Assembly, committee members talked about KFTC's organizing and Just Transition work in eastern Kentucky. They spotlighted the recent conversation with the Poor People's Campaign: A National Call for a Moral Revival in Benham (see details in this issue of BTS). Chanda Campbell of Perry County mentioned that the Poor People's Campaign zeros in on many important issues in our communities. "Classism and racism are so deeply intertwined," she noted.
Chase Gladson of Harlan County spoke at the Benham event. "Seeing people ready to get active in the community to work on these issues got me really excited," he reflected.
Cassia Herron of Jefferson County lifted up, "The women of color leaders and diversity of people [involved in the Poor People's Campaign] stand out to me. Poverty has no one single face."
Committee members discussed other aspects of KFTC's organizing in eastern Kentucky as well as Just Transition work as impacts the region. Leaders emphasized that "just transition" is an important perspective concerning the type of change that KFTC is working for, while noting that its meaning evolves over time.
One key point lifted up was that working for a Just Transition involves asking what does a community want and how can they move there.
In reflecting on her experience working for a Just Transition in agriculture, Herron noted that this work is essential because it, "puts power back into local communities and puts forth a vision of what we want and creates ways to do it. There is a lot of power in taking control of that destiny."
Members also lifted up that keeping justice central to the conversation about transition takes work, recalling that in times of transition, process matters.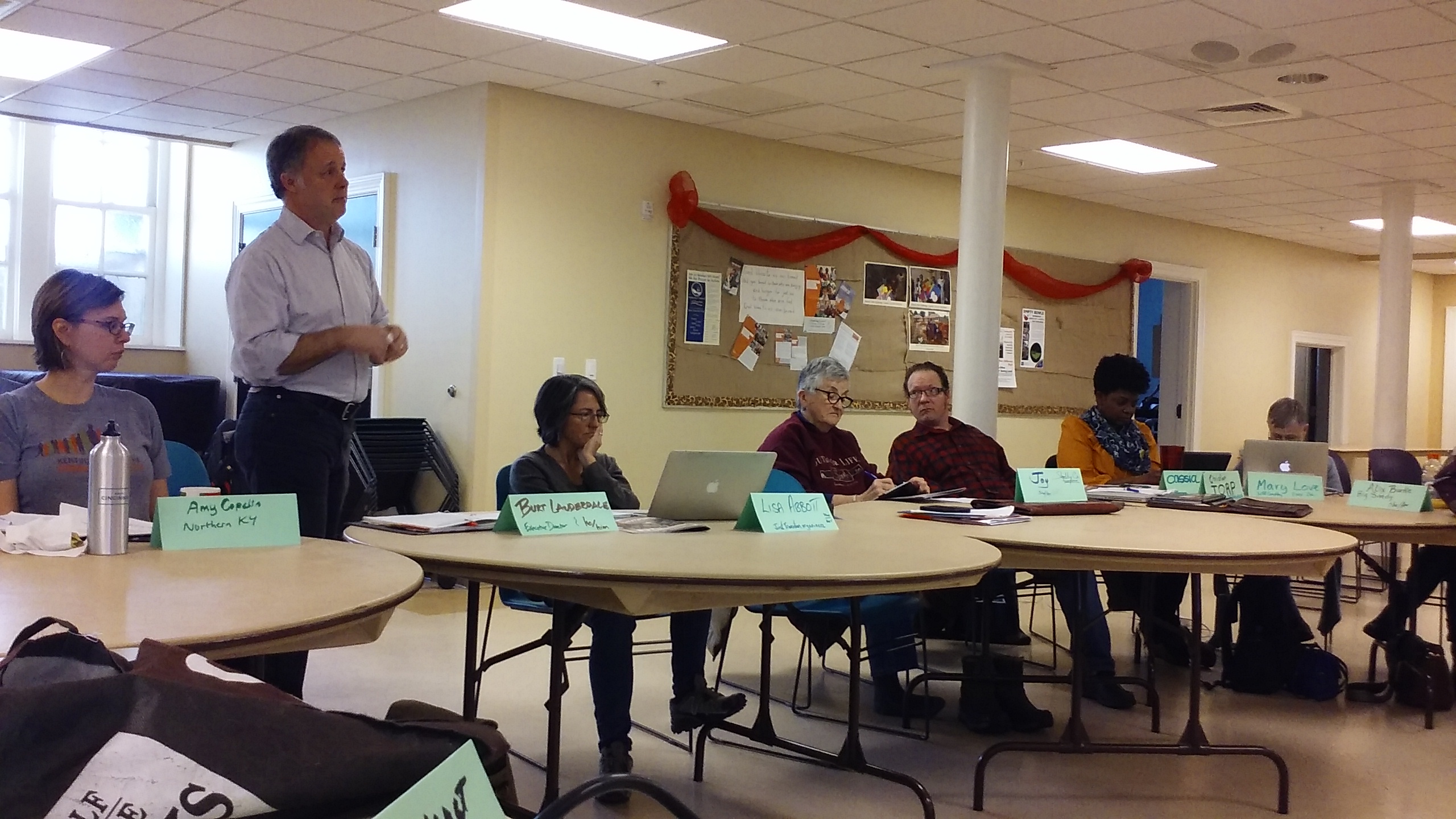 Committee members continued to highlight ongoing organizing work in eastern Kentucky. David Miller of Knox County noted that the new Cumberland chapter plans to develop their priorities for the coming year. "We are still figuring out who we are together as a chapter. We've engaged in supporting workers around pensions, and organized health care sign-ups. For the coming year, our chapter hopes to work on environmental justice, racial justice, voting rights and fairness," he said.
Chase Gladson mentioned, "We are young people trying to get more young people involved. We are working around mental health in school, harm reduction and local foods."
Alix Burke of Pike County mentioned the Women's Anniversary March held in January and noted, "We are helping organize a Unity Rally to bring folks in the community together on the anniversary of white supremacists coming to the community. At the event, we are going to have a poetry contest for elementary school kids lifting up unity."
In other news, the Steering Committee elected Mary Love to the Executive Committee to fill the seat vacated by Dana Beasley-Brown of Warren County who resigned to campaign for elected office. Love is a long-time member of KFTC and has been active with the organization in many ways. She currently serves on KFTC's New Energy and Transition, Leadership Development, and Land Reform committees. She has previously served on the Kentucky Coalition board.
May 16, 2021
| Lexington Herald-Leader
April 27, 2021
| The Courier-Journal
April 8, 2021
| Lexington Herald-Leader
Featured Posts
Meredith Wadlington on September 22, 2020
Lisa Abbott on June 9, 2020
Caitlin Sparks on May 9, 2020
© 2023 Kentuckians For The Commonwealth