Steering Committee members discuss 2018 election work
Posted by: KFTC Staff on December 5, 2018 at 03:56pm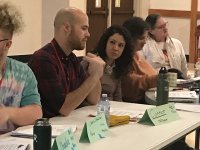 KFTC Steering Committee members found a lot of positives to lift up as they evaluated KFTC's electoral work in 2018, even as they recognized the need for bigger and better efforts in the coming years.
Committee members for an overnight retreat, November 30 - December 1 at the Nazareth Retreat Center. They focused on building grassroots power in Kentucky and reviewed lessons learned during the 2018 elections.
Among several items discussed on Friday night, they received a report from Steering Committee leaders who attended the recent Facing Race Conference in Detroit, where racial justice was the focus.
Chandra Cruz-Thomson from Jefferson County shared her reflections on the conference. She lifted up several quotes from conference speakers. Activist Bree Newsome reminded conference attendees of the power of art in organizing by stressing that it is important to "use art to show people something they can't imagine."
Summer Bolton, the Southern Kentucky chapter representative, also participated in the conference. "It took me long time to process everything I experienced, the people I talked to, what I heard," Bolton said. "I felt like I was going through a 12-step process of deprogramming white supremacy from my brain. I walked out a better person, more educated despite my comfort level."
Throughout the weekend, Steering Committee members were encouraged to imagine the future that KFTC is working towards as they discussed KFTC's history of involvement in elections and the 2018 election results in Kentucky and nationwide. These visioning exercises informed the committee's planning for the 2019 and 2020 elections and beyond.
Mary Love of Oldham County recalled KFTC's work to successfully pass a state constitutional amendment to prohibit abuses by coal mining companies. "My first involvement with KFTC was in 1988. I voted in the election where we had the constitutional amendment to do away with the broad form deed."
As members discussed the work that KFTC did during the 2018 election season, several lifted up 26 races where candidates endorsed by KFTC's New Power PAC won. "We had more people win [this election season] than we had ever endorsed before," Rebecca Tucker of Madison County noted.
Cassia Herron of Jefferson County lifted up that robust staff support for KFTC members was important to KFTC's electoral work. "Our staffing has been good and really important for helping members have the capacity to do this work. The staff supported member leaders making in making important endorsements."
Bolton noted the importance of face-to-face conversations with voters about local issues for motivating turnout on election day and support for specific candidates.  "I see value in having meaningful conversations with voters."
Leslie Bebensee of Scott County echoed Bolton's perspective, saying, "I had great conversations talking to voters at their doors in Georgetown"
Members of the new KFTC Cumberland chapter (Knox, Laurel, Pulaski and Whitley counties) were involved in voter empowerment work for the first time. "We registered voters. These folks had never voted before. And we got contact information from new folks who are interested in KFTC," reported David Miller, the chapter representatives from Knox County.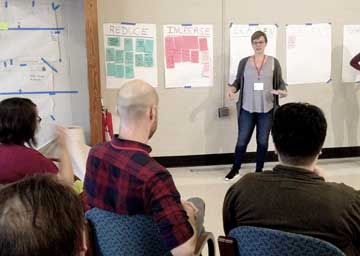 Amy Copelin of Boone County noted the Northern Kentucky chapter's work to register voters. "We registered over 100 voters in our chapter."
Although there are challenges facing folks working to build new power, Copelin emphasized, "I feel like it is encouraging when we look over the candidates that the New Power PAC endorsed. They outperformed expectations. If we can keep building that momentum, that leads to change in the long run."
"We closed a lot of gaps and got really close in many places," Shannon Scott of Boyle County and the Wilderness Trace chapter added. "We also gained a lot of experience, learning as we go. Every time we do something together we are getting better."
Committee members were provided a detailed report about KFTC electoral work, including election turnout and statewide results.
"I find these numbers to be really optimistic. I know there was a lot of heartbreak in this election, but I find a lot of hope in it," Chandra Cruz-Thomson said. "All the data beneath the wins and the energy that was mobilized, and the energy we are putting in so we can learn from this in the future. Especially in a climate that was not built for us, to have the wins that we did in this climate is really hopeful."
Tucker noted, "Having good candidates brings energy. Having friends to get involved and volunteer with brings energy. Having the tools to be successful is empowering."
Members also discussed KFTC's endorsement process. During 2018 KFTC members formed over a dozen locally-based Democracy Teams. These teams met throughout the year to discuss the political landscape in their regions, the issues in the election and the candidates running for public offices.
"Having Democracy Teams was really important. It is important to have local leaders' and local experts' points of view in this process," Cassia Herron said.
KFTC Secretary-Treasurer Christian Torp of Fayette County added, "The Democracy Teams were extremely helpful. It was nice to have a chapter-centered analysis to give the Executive Committee with endorsement recommendations."
KFTC Steering Committee members reflected on their experiences during the 2018 elections and shared their insights from across the state to develop a fuller picture of the election results in Kentucky. These insights informed the Steering Committee's ongoing strategic approach toward making an impact in future elections across the state.
Other items the Steering Committee discussed include KFTC's work around Racial Justice organizing, the upcoming 2019 General Assembly session and KFTC's 2019 hiring decisions and staffing.
Committee members were happy to meet at the Nazareth Retreat Center, a place where social justice and environmental awareness is practiced. They were welcomed by Sister Carol McKean, who briefly discussed the work at Nazareth to promote environmental justice.
May 16, 2021
| Lexington Herald-Leader
April 27, 2021
| The Courier-Journal
April 8, 2021
| Lexington Herald-Leader
Featured Posts
Meredith Wadlington on September 22, 2020
Lisa Abbott on June 9, 2020
Caitlin Sparks on May 9, 2020
© 2023 Kentuckians For The Commonwealth