Voting Rights – grassroots persistence leads many to believe this is the year!
Posted by: KFTC staff on January 16, 2014 at 11:07am
Optimism was high as people from all over Kentucky participated in a Voting Rights Lobby Day and Rally at the capitol on Wednesday.
"We met with a couple of senators and representatives. The attitude was totally different today than it was last year," said Rev. Alonzo Malone of Louisville. "The whole theme today was hope. I was really encouraged. The whole day symbolized hope."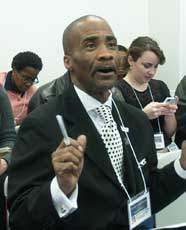 Malone was one of dozens of people who met with nearly 50 legislators during morning lobbying. They reminded House members of an upcoming floor vote on House Bill 70 (as early as today), which passed out of committee on Tuesday. They pushed senators to see that the bill gets a hearing and vote in the Senate this year.
"I was impressed at how many representatives wanted to be cosponsors," said Rosanne Klarer of Scott County.
Rep. Jesse Crenshaw, the chief sponsor of HB 70, said Tuesday's committee action where there was no dissenting votes showed how the attitude about the bill has changed. There was one "pass" during the roll call vote, and that was by a legislator who has voted No in the past.
Since the bill has passed the House by large margins the past seven years, many of the visits to House members were to thank them for past support and ask them to talk with their colleagues in the senate.
On the Senate side, several people said there is a "new attitude" about the restoration of voting rights. Sen. Gerald Neal who is the primary sponsor of a Senate companion bill, SB 15, said. "I have never been so encouraged about a piece of legislation as I am today.
"I have detected that there is a different mood in the Senate," Neal continued. "I just cannot believe that the Senate will not step up to the plate in 2014 and pass HB 70."
Several rally speakers gave compelling reasons for the restoration of voting rights.
Michael Hiser said that since he got out of prison and turned around his life, he has paid $15,000 in taxes to the government. "Not one of those checks was returned" for not being a full citizen. Yet as a minister, teacher and parent he cannot vote.
Honey Dozier, who works with Kentucky Jobs with Justice, noted that most former felons who cannot vote are working people. "For working folks to not be civilly engaged … is not a democracy."
Stephanie Hughes from northern Kentucky, as a nurse, is in that situation. "I can put a tube down your throat, I can hold your hand while you're dying … I am fully integrated into the community, except for one thing: being a former felon I cannot let my voice be heard."
"I have never seen the inside of a prison, but my right to vote has been taken away," said Mantell Stevens.
Some speakers pointed out that disenfranchisement for former felons reflects the racism that still exists in our society.
Teddi Smith-Robillard compared it to being a slave on a plantation: "You can fix the food but you can't eat in the kitchen."
Jefferson County Attorney Mike O'Connell said felon disenfranchisement "is fundamentally unfair … is intended to suppress minority voters … is bad public policy."
The high-energy rally that took place in the Capitol rotunda saw several legislators from both parties stop by with some asking to speak, including Sen. Robin Webb who called voting rights "an access to democracy issue."
Notable was the presence and vocal support from Sen. Brandon Smith from Hazard, a member of the Senate Republican leadership.
Rally emcee Tayna Fogle, Mike Barry from People Advocating Recovery and other expressed the hope and belief that this year would be the last time voting rights supporters would need to rally in the rotunda. Said Barry: "I hope the next time we're here is for a celebration."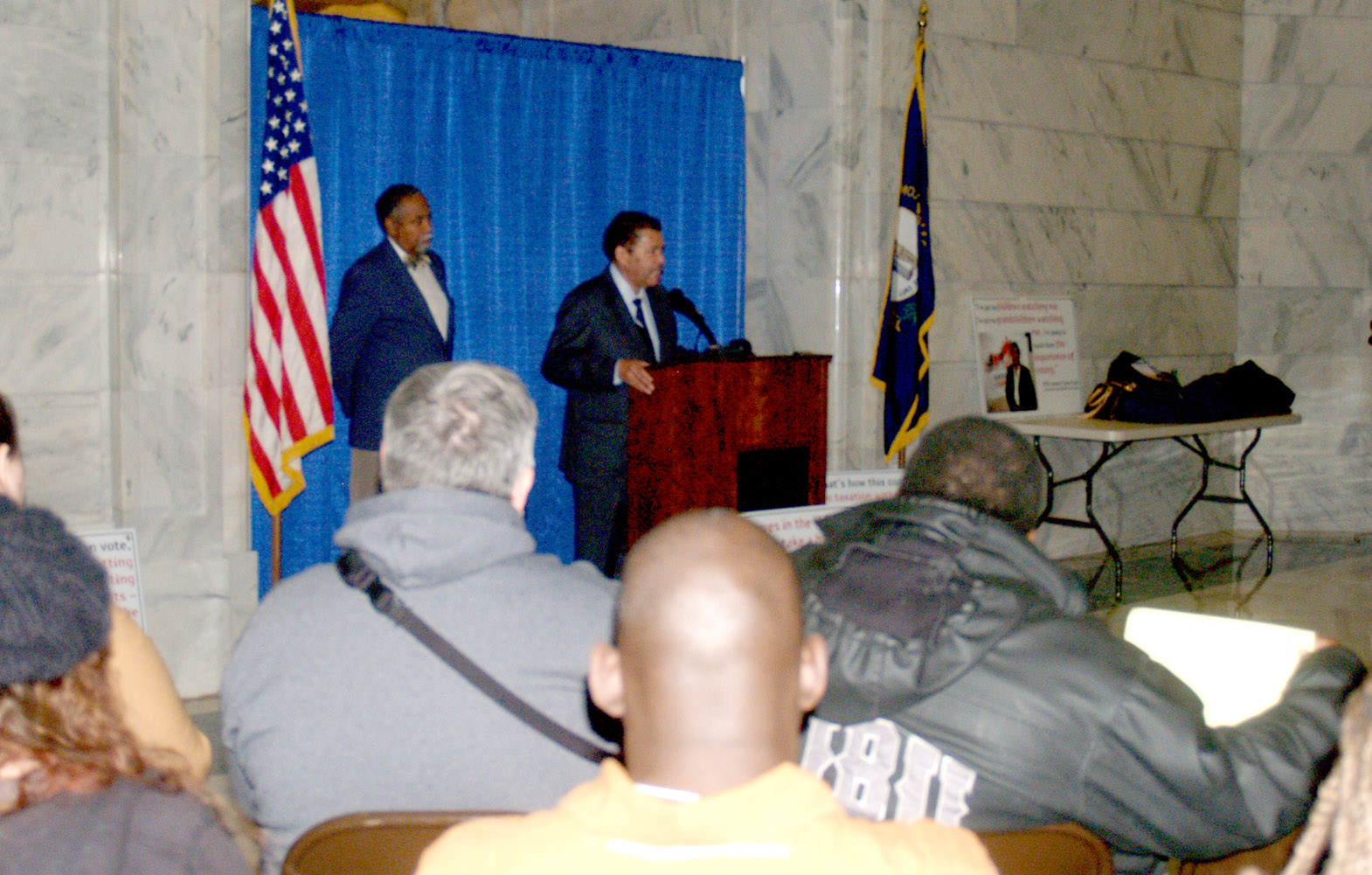 Some Media coverage:
May 16, 2021
| Lexington Herald-Leader
April 27, 2021
| The Courier-Journal
April 8, 2021
| Lexington Herald-Leader
Featured Posts
Bonifacio Aleman on September 26, 2023
Bonifacio Aleman on September 26, 2023
Bonifacio Aleman on September 26, 2023
© 2023 Kentuckians For The Commonwealth