We're in a moment – it's time to go all in
Posted by: Meta Mendel-Reyes, KFTC Chairperson on July 15, 2019 at 03:16am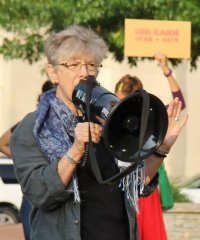 This spring 2019, KFTC's Steering Committee voted to go "all in" to impact the important elections in 2019 and 2020. They saw the urgency of this moment when so many things – our health care, pensions, schools, environment and our democracy – are at stake. Impacting the elections means engaging with hundreds of thousands of voters and changing the narrative about what's possible in Kentucky. In the letter below, KFTC Chairperson Meta Mendel-Reyes explains why this moment is different – and why we have to rise to it.
To KFTC members and friends:
I'm writing to share some important news about how you can help change Kentucky politics in 2019 and 2020.
But first, some personal news. In May I welcomed my first grandchild, Hope. Having a grandbaby is wonderful – I highly recommend it. And I've been thinking a lot about what I want for her.
I want Hope to live in a world where she can be who she is. She's a beautiful biracial child, and I want all her identities to be welcomed and respected. In the same spirit, I want her to feel connected to other people, regardless of difference. I want her to have a sense of community. To succeed, but not at the expense of others. I want her to practice love in action, because I know that our lives are so much richer when we engage deeply with other people to change the world.
And in fact, I want these things for all children. I want all kids – and all people – to be loved for who they are, to learn and grow and share, to have everything they need to thrive and dream.
This is the world that KFTC is working for. And I can't remember a time in my life when that vision has been more threatened. Or when it was more urgent for us to take action. 
Visit our new website WeAreKentuckians.org and sign up to volunteer. Or call your local organizer and ask how you can help. 
And please consider donating. Every gift helps fund this work.
The people in power in Frankfort and Washington D.C. are actively working to divide us, appealing to our worst impulses of hate and anger. They want us to point fingers at each other, while their corporate donors get richer and Kentuckians struggle to pay our bills.
But we can choose a different way. We can choose a bright future for Kentucky – with an economy that works for all of us, well-funded schools and well-respected teachers, the health care we need, clean air and water, and welcoming communities. 
We can change the narrative about what's possible in Kentucky and, taking action together, we can create a community that works for people, not profits. We can choose each other.
What will it take? We have to elect better leaders.
To do that, we have to reach more people than we've ever reached before.
So we're asking more of you than we ever have before – because we know that nothing else will do. This is our moment, but only if we rise to it.
KFTC has an ambitious plan to recruit 1,000 Democracy Leaders to mobilize 100,000 voters who share our vision. The goal is to impact the important elections in 2019 and 2020 – and build grassroots power for all the elections to come.
We're talking with thousands of folks through neighborhood canvassing, tabling at events, phone calls, texting, house parties, Democracy Meet and Greets, and even at tee ball games. We're launching a communications campaign with a new website, video series, social media and more. And – to meet our goals – we have to multiply and amplify all of these efforts.
I'm asking you to do all you can. Here are some ways you can support the work:
Host a kitchen table conversation and invite folks in your neighborhood to talk about issues and voting.

Join a neighborhood canvass or phone bank.

Register voters at a local event.

Help plan a Democracy Meet and Greet or candidate forum.

Become a Sustaining Giver at an amount that's right for you, or increase your Sustaining Gift. Your ongoing support is vital to this movement. 

Bring your talents, skills, hopes and dreams to the table.
I want Hope to live in a world where people are trying hard to bring out the best in each other. I think we can have that kind of Kentucky if we work for it.
This moment really matters. Will you join us in choosing a bright future for Kentucky?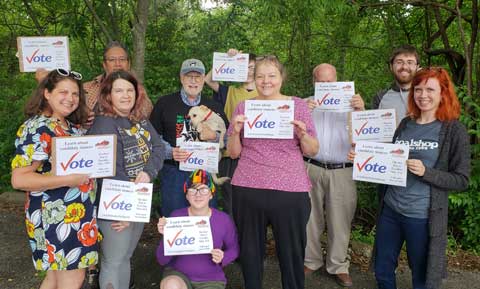 May 16, 2021
| Lexington Herald-Leader
April 27, 2021
| The Courier-Journal
April 8, 2021
| Lexington Herald-Leader
Featured Posts
Meredith Wadlington on September 22, 2020
Lisa Abbott on June 9, 2020
Caitlin Sparks on May 9, 2020
© 2023 Kentuckians For The Commonwealth