We can choose better leaders on June 23
Posted by: KFTC Staff on April 29, 2020 at 03:28pm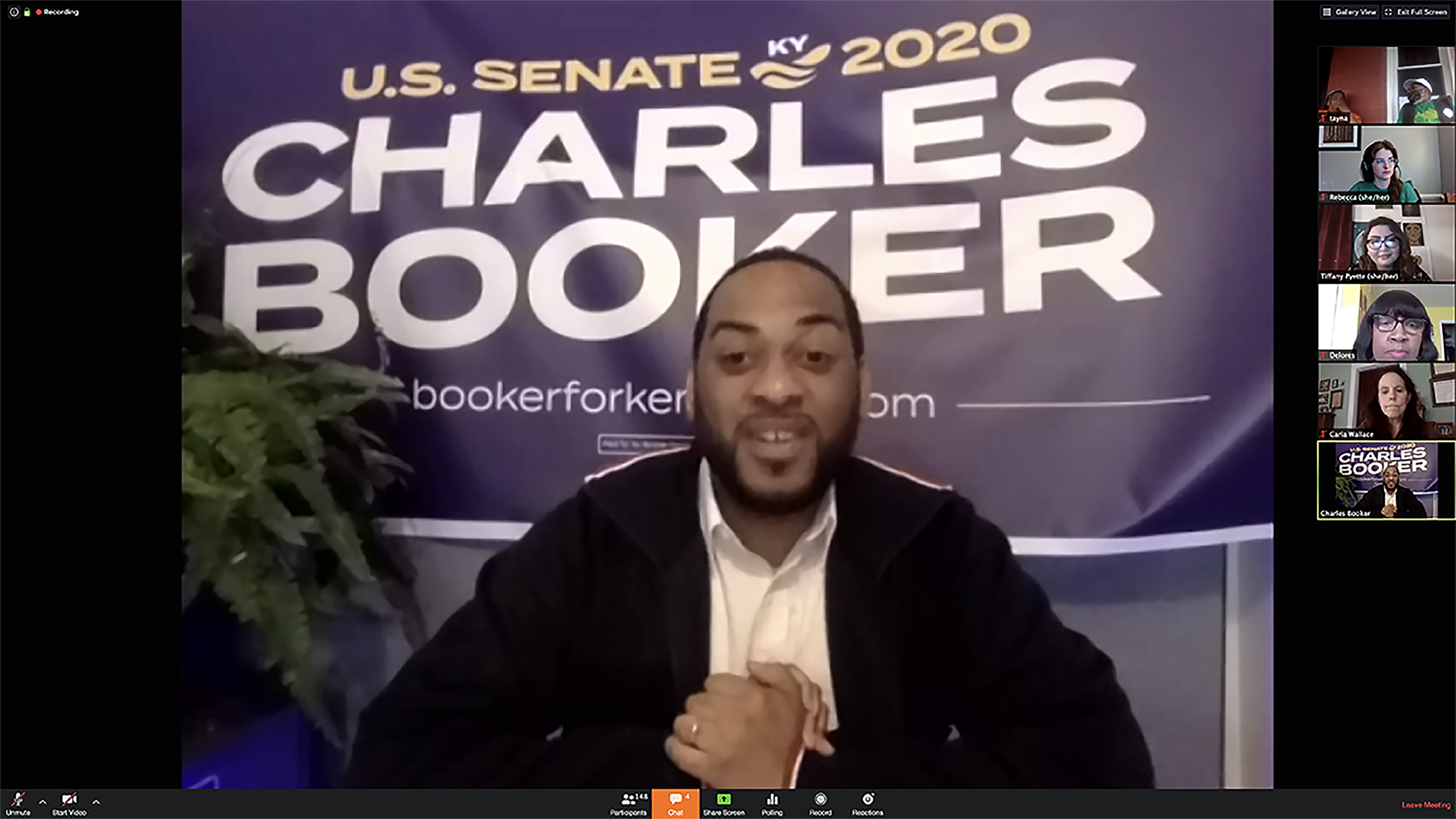 When we vote, we don't just choose between candidates. We're choosing what kind of Kentucky we want to call home. 
In the June 23 primary election, we can choose candidates who want what's best for all of us, who won't try to divide us for political gain or put corporate donors first.
Charles Booker is that kind of candidate. KFTC's New Power PAC has endorsed Booker in the Democratic primary for U.S. Senate. The winner of that primary will take on Sen. Mitch McConnell in the fall.
Kentuckians have the option to vote by mail in the primary, and this will be the safest way to cast your ballot. Details are still being finalized, but the deadline to request a ballot is June 15, and ballots must be postmarked by June 23 to be counted.
Last night, about 150 KFTC members and friends joined Booker for a virtual town hall. Booker talked about his journey, his reasons for running and his hopes for Kentucky. And he answered questions about how he'll work for clean water for all Kentuckians, expand voting rights, address racial injustices, end generational poverty, and more.
Booker lifted up four key issues he'll push for if elected:
A Green New Deal, which he calls a Kentucky New Deal

Medicare for All

Universal Basic Income

Removing barriers to the ballot box
Learn more about his platform at bookerforkentucky.com. And we hope you'll choose Charles Booker on June 23.
----------
The New Power PAC also endorsed the following candidates in local races. Over the past several months, grassroots leaders across the state participated in an extensive, thoughtful, and deliberate democratic process that led them to recommend the endorsement of these candidates. Our ultimate goal is to support the election of candidates across Kentucky who speak to our issues, vision, and values.
Garrett Dean, Kentucky Senate District 37 (portion of Jefferson County)
Lamar Allen, Kentucky House District 56 ( Woodford County, portions Fayette & Franklin counties)
Martina Jackson, Kentucky House District 81 (portion of Madison County)
Nima Kulkarni, Kentucky House District 40 (portion of Jefferson County)
David Snardon, Kentucky House District 43 (portion of Jefferson County) 
Aletha Fields, Louisville Metro Council District 4 
Ryan Fenwick, Louisville Metro Council District 10 
Mera Corlett, Louisville Metro Council District 18
You can read more about our endorsements on the New Power PAC website.
May 16, 2021
| Lexington Herald-Leader
April 27, 2021
| The Courier-Journal
April 8, 2021
| Lexington Herald-Leader
Featured Posts
Bonifacio Aleman on September 26, 2023
Bonifacio Aleman on September 26, 2023
Bonifacio Aleman on September 26, 2023
© 2023 Kentuckians For The Commonwealth