What is the Green New Deal?
Posted by: KFTC Staff on April 23, 2019 at 04:58pm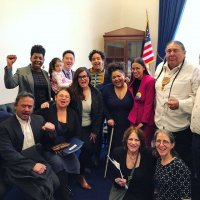 KFTC members are involved in conversations on the local, state and national level about the Green New Deal, a bold and broad proposal to address climate change, set the country on a sustainable energy future and tackle inequalities in the energy economy and across society.
"The beauty in the Green New Desk is that it's visionary, and it's collaborative, and it's collective and allows us to have different conversations with a lot of different groups of people based on what they are interested in," said Cassia Herron, KFTC vice-chairperson on the Michelangelo Signorile Show on SiriusXM Radio.
 "It's something that's visionary and lifts up things that are happening in the local communities – folks are finding new solutions that are built in community," added Herron, one of several Kentuckians interviewed by the national and international media about the Green New Deal and energy transition efforts.
"The Green New Deal is about being intentional about driving our energy economy away from fossil fuels to safe renewable sources that are good for our environment and our people, as well as our economy," she added.
"In Kentucky we talk about Just Transition from a coal-based economy. Workers need to be taken care of. Families need to be taken care of who had negative impacts of being in the industry. Folks need to be invested in so they can be the front line for helping figure out how we go beyond coal."
Though the term Green New Deal and the ideas have been around for years, though rapidly gained momentum since the 2018 elections with new voices elected to Congress and groups pushing establishment Democrats to be bold in tackling the climate change crisis.
Though still largely conceptual, Green New Deal proposals began to take shape in early February with the introduction of legislation in the U.S. House by Reps. Alexandria Ocasio-Cortez and Ed Markey.
KFTC already is pushing important first steps needed for that transition in areas once dependent on coal mining. "We have things that are on the books right now that Kentuckians need Washington to act on," Herron said. Those include securing funding for the the Black Lung Disability Trust Fund, passing the RECLAIM Act and making investments in people and communities devastated by the loss of coal mining jobs.
In 2017, KFTC released the Empower Kentucky Plan after an informed, creative and inclusive public conversation about the energy future Kentuckians want, and the best ways to shape a just transition to a clean energy economy. The Plan demonstrates that a just transition to a clean energy economy is possible.
By emphasizing energy efficiency and renewable energy and putting a low price on CO2 pollution, the plan would produce more jobs, less health-harming pollution, and lower average bills than Kentucky's business-as-usual scenario over 15 years.
A national Green New Deal is much larger in scope, scale and commitment to the level of investment needed.
KFTC is a member of the Climate Justice Alliance – a national network of locally, tribally and regionally-based racial and economic justice organizations – which is helping shape Green New Deal proposals and ensuring that the leadership of Indigenous communities, communities of color and poor communities across the country are centered in the Green New Deal. 
KFTC and Service Employees International Union 32BJ are partnering as host organizations with the youth-led Sunrise Movement, which helped bring the Green New Deal to the national stage, on a mass meeting  and community dinner on the Green New Deal, on May 11 in Frankfort. This event will serve as the Kentucky stop on the youth-led Sunrise Movement's national Road to a Green New Deal speaking tour. Reserve tickets here! 
If you have any questions, please reach out to Nikita at [email protected] and 502-554-6633.
May 16, 2021
| Lexington Herald-Leader
April 27, 2021
| The Courier-Journal
April 8, 2021
| Lexington Herald-Leader
Featured Posts
Meredith Wadlington on September 22, 2020
Lisa Abbott on June 9, 2020
Caitlin Sparks on May 9, 2020
© 2023 Kentuckians For The Commonwealth