Building a Clean Energy Future in Benham and Lynch
Watch Carl Shoupe, a retired coal miner from Lynch who lives in Benham, talk about the environmental struggle of the two towns.



In 2011, KFTC members took Gov. Steve Beshear on a tour of eastern Kentucky, including Harlan County. Click here to see photos from his visit.
Clean Energy Potential
KFTC members in Harlan County have a vision of clean energy and sustainable buildings for the towns of Benham and Lynch. Residents have been working for the past several years to make their towns more efficient and sustainable. Through their organizing efforts, they are now on their way to improving their energy use, with many more goals set for the future.
Several years ago, KFTC established a relationship with the MIT Community Innovators Lab (CoLab), which worked closely with KFTC as well as MACED (Mountain Association for Community Economic Development) to find the most efficient and sustainable way to develop energy in southeastern Kentucky. Their final report, Benham Community Energy Initiative, looked at Benham as a model for other similar towns and how it could become more sustainable. This provided residents of Benham and Lynch with an alternative model that shows the potential for meeting their energy needs while reducing energy costs.
Kentucky has one of the highest rates of energy consumption of any state. This trend is especially true in the towns of Lynch and Benham. Part of the reason for this is that buildings are so old that they lack insulation and are prone to leakage. One of the suggestions of the report was to retrofit homes and other buildings to be more energy efficient. In order to achieve this, KFTC members worked with the city to apply for a grant, and the city ended up receiving a grant to retrofit Lynch's city hall. Although these funds will not cover retrofitting for homes, it is a healthy start to the city's struggle for sustainability.
Harlan County chapter members have many more ideas for the future of sustainability in Benham and Lynch. Other groups in town have been trying to tackle their own energy efficiency projects, such as the Benham Garden Club, which handed out CFL bulbs to residents. Members would also like to explore micro-level wind and solar projects, and potentially even hydroelectric for the many streams in the area. They would also like to acquire more money to retrofit residents' homes. Additionally, Black Mountain has a very high potential for a large-scale wind farm, and although this would take a long time and a lot of effort, it is a long-term goal of the group.
History and Struggle with Coal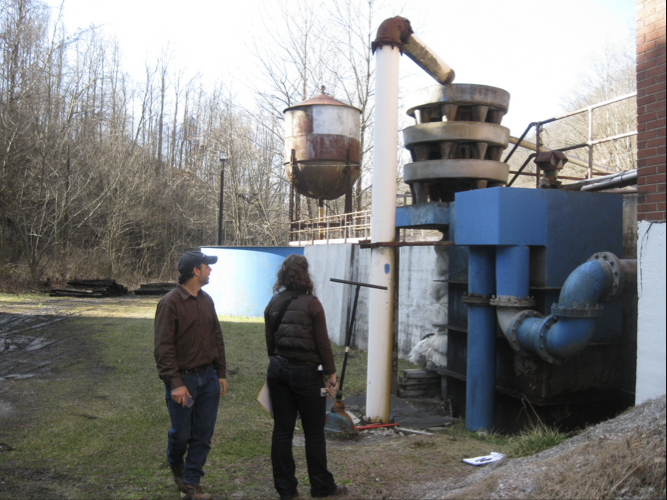 Benham and Lynch are towns in southeastern Kentucky next to the Virginia border. Originally founded as coal camps, the towns were filled with miners and their families. Lynch was once the largest coal camp in the world with a population of around 10,000. However, once the companies left, so did most people, leaving a population of about 740 in Lynch and 500 in Benham, according to the 2010 Census. Most of the old buildings that were once owned by the coal companies remain and are in use. Click here to learn more about the history of the towns.
Lynch and Benham sit at the foot of Black Mountain, the tallest mountain in Kentucky. In the 1990s, the Harlan County KFTC Chapter and the Kentucky Resources Council worked to save the upper elevations of Black Mountain from strip mining and logging. However, coal companies are still pursuing Black Mountain and other mountains in the area. In 2010, Black Mountain was even listed as one of the 11 most endangered historic places by the National Trust for Historic Preservation.
KFTC members are challenging several mining permits in the area. In one instance, members filed a Land Unsuitable for Mining petition in an attempt to prevent a strip-mining site that could negatively affect tourism in the area. Learn more about Benham and Lynch's fight to protect their land here.
© 2023 Kentuckians For The Commonwealth