5th Annual Louisville Loves Mountains Festival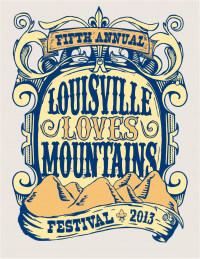 The fifth annual Louisville Loves Mountains Festival is on Friday, May 17, 2013. The festival runs from 4 p.m. to 10 p.m. at the Green Building, 732 E. Market Street. The Jefferson County KFTC chapter is once again partnering with Heine Brother's Coffee and Carmichael's Bookstore to celebrate Kentucky's mountain beauty and heritage. One thousand members of the local community are expected to attend the event. The festival is free and open to the public and will include local artists, musicians, food truck vendors, and breweries.
KFTC is also running a youth essay contest in conjunction with the festival. Louisville youth ages 5 to 18 are invited to write essays that address the topic "Why we need to protect our mountains and mountain communities." The winning essays will be displayed during the festival. Contact Alicia for details about the contest ([email protected], 502-589-3188)
Louisville Loves Mountains Festival celebrates the unique natural beauty and ecological importance of Kentucky's Appalachian mountains. All participating vendors are donating a percentage of their sales to KFTC and our work to end mountain top removal mining.
We hope you will consider being a part of this wonderful community event.
Music Line-up
5-5:30 PM Troubadours of Divine Bliss
5:30 -6PM Potluck Ramblers
6- 6:30 PM Hog Operation
6:30-7:15 River City Drum Corps (Pipe Drummers)
7:15 PM- 7:45PM Beady
7:45 PM -8:30 PM Slow Charleston
8:30 -10 PM: Dance Party with Hay DJ
May 17, 2013 -

4:00pm

to

10:00pm
502-589-3188
Event Venue:
Green Building, 732 E. Market Street
Event Location:
732 E. Market Street
Green Building
Louisville
,
KY
40204
© 2022 Kentuckians For The Commonwealth