How does mountaintop removal affect the economy?
A $115 million annual bill for Kentuckians!
Despite a ongoing state revenue crisis, the Kentucky General Assembly continues to allow direct and indirect subsidies to the coal industry amounting to more than $100 million a year. This was documented in a 2009 report, The Impact of Coal on the Kentucky State Budget, by the Mountain Association for Community Economic Development. Since then, the layoff of thousands of miners and loss of severance tax revenues means the loss to Kentuckians is even greater.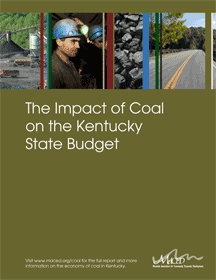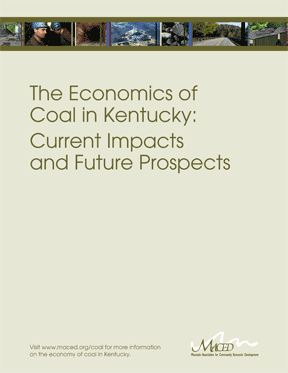 Click on image above to download report, or the image to the right for companion report, The Economics of Coal in Kentucky.
Millions, and in some cases, billions of dollars of coal have been taken from individual Appalachian counties, yet they remain among the poorest in the nation. Coal has made some people very rich, but it leaves the region impoverished.
"Coal hasn't been paying their fair share, so who's picking up the tab? It's us, the taxpayers. It's costing us more than just what we pay out in electric bills."

Suzanne Tallichet
Rowan County
That results in part because the coal industry is largely absentee owned. Profits go elsewhere and little capital is reinvested in the communities where the coal is mined. The costs of coal – in terms of public health, occupational injury and disability, loss of water, damage to roads, increased damage from flooding, political corruption, litigation, the lack of economic diversity, etc. – extract much more from a community than it receives in return through taxes paid by the industry.
Boom and bust cycles also are common, but the decades-old trend is that fewer and fewer workers are needed to mine the same amount of coal. Mechanization in underground mines and the few workers needed at mountaintop removal operations – a mining technique designed, from the very start, to take the labor force out of the mining operation – has resulted in dramatic decreases in coal employment.
Mining employment in Kentucky decreased about two-thirds from 1980 to 2006, with only a slight decrease in coal production.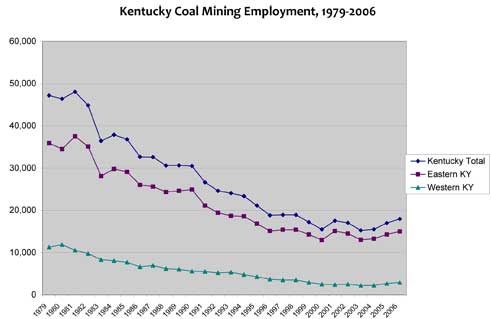 © 2023 Kentuckians For The Commonwealth