Kentucky authors' statement, October 2005
Authors who wrote and
signed this statement
Dwight Billings
James Baker Hall
Charlie Hughes
Janisse Ray
Jim Webb
Tom Barnes
Ron Eller
John Hennen
Fenton Johnson
J. Stephen Rhodes
Gray Zeitz
Wendell Berry
Jonathan Greene
Chris Holbrook
Lynn Pruett
Jordan Fisher Smith
Edmund August
This statement was first presented during a program at Joseph-Beth Booksellers by the authors upon their return from the tour.
Authors' Statement from the KFTC
Writers Mountaintop Removal Tour
October 21, 2005
The Appalachian Mountains are one of our planet's great treasuries of life and biodiversity. These mountains nurture life, but they are threatened with death. We are inspired by the efforts last spring of our fellow Kentucky writers to give witness to the economic and cultural violence of mountain top removal coal mining. Like them, we have walked still fecund land undisturbed by mining, and lands, streams, and forests destroyed forever. And we have listened to the eloquent testimony of citizens injured by the coal industry and betrayed by the regulatory agencies of their governments. We stand with them.
We have seen the profound failure of short-term economics, policy, and leadership along with governments' failure to regulate coal mining and protect the communities and environments of Eastern Kentucky. It is time to take the long-term view. The long-term resources of Eastern Kentucky are its forests, waters, and people.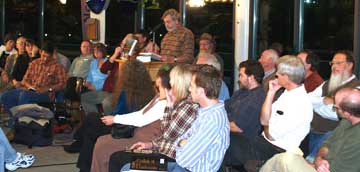 Mountain top removal mining is only the most dramatic form of destructive surface mining. Reclamation is a sham. It creates deserts of shattered rock, barely able to support life or human use, colonized by species alien to the natural plant community of the Appalachian forest. We support passage of House Bill 509 to save streams from valley fills, but we also believe that the time has come to cease all surface mining in Eastern Kentucky.
We recognize the difficulties that the transition to mining practices that do not destroy forests, streams, and communities will entail. We need conservation, we need alternative energy sources, and we need sustainable forms of economy. But Appalachian Kentucky cannot be allowed to suffer more damage while we wait for these to be developed if the region is to have any future at all.
© 2023 Kentuckians For The Commonwealth