Lotts Creek
EPA Officials Visit Eastern Kentucky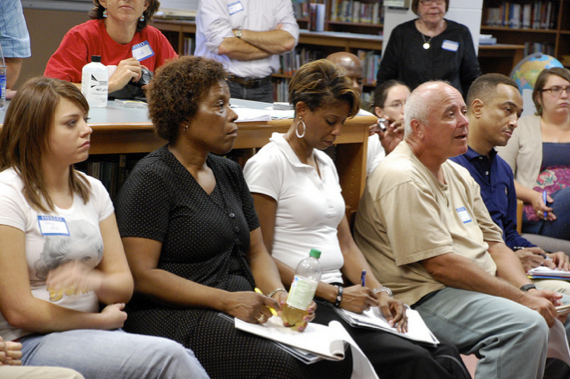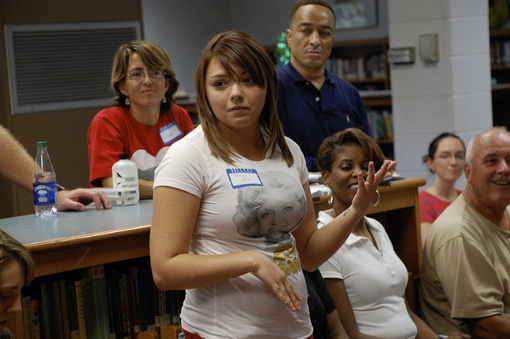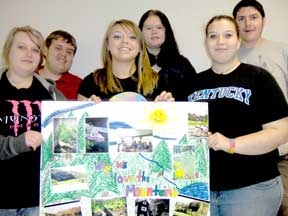 Through their organizing and their art, citizens in Lotts Creek are taking a stand against mountaintop removal in their community.
In May 2011, the seniors in an art class at the local Cordia High School (Knott County) put together a project of pictures and illustrations of their community. They sent it, in addition to a letter, to EPA Region 4 Administrator Gwendolyn Keyes Fleming. Families in the area also wrote letters to Fleming and other EPA officials, speaking out against proposed mining that would destroy their beautiful mountains and could force them to leave their homes.
"I, Shirley Sumner, and my husband, Winfred Sumner, do not want to have to leave from where we live. We have moved 13 times in 14 years and we are sick. Our daughter lives close by and can help us if we need her.  Its been about 2 years since the company came and took pictures of my house and we have remodeled and had a new heat pump put in.

My family has four homes here in Stacy's Branch and we will fight to stay. I love this place, its home. We have good neighbors and many feel the same way I do.

We would like very much to meet with you about this permit."
The EPA is in charge of approving or denying a proposed mountaintop removal (MTR) permit on the ridge between Stacy's Branch in Perry County and Lotts Creek in Knott County. The site would include 849 acres, six valley fills and more than 4 miles of streams. State officials are in favor of the proposed mine and want to issue the coal company permits that would allow it to pollute, but the EPA is currently withholding those permits, as they would violate the Clean Water Act.
A couple weeks after receiving their letters and art, EPA officials for Region 4, including Fleming, participated in an hour-long conference call with residents in Knott and Perry counties. Residents described their apprehensions about the proposed site, which could harm their water. The company requesting the permit, Leeco, has been charged before with polluting waterways with selenium, an extremely toxic and dangerous chemical that can be detrimental to human health. Residents participating in the conference call requested that Gwendolyn Keyes Fleming visit their community to see for herself what they are trying to protect.
The EPA listened to their request, and on Aug. 18-19, 2011, KFTC hosted nine EPA officials for a visit in Kentucky. Notably, the officials included Gwendolyn Keyes Fleming, as well as Lisa Garcia, a special advisor to EPA Administrator Lisa Jackson on Environmental Justice.
The officials stopped in Manchester, Vicco, Whitesburg, and Lynch to listen to residents' concerns and understand their visions for their communities. Residents repeatedly asked the officials to enforce the law to help create safe and healthy communities.
The Cordia School in Vicco was the second stop of the officials' tour, and residents of Knott County were able to express their concerns to EPA officials face-to-face. The Hazard Herald published an article about the meeting. They described some of the testimonies of citizens who attended the meeting.
Citizens in Lotts Creek have proven their dedication to protecting their land and community. Through letter writing, artwork, and ultimately hosting EPA officials in their town, they have ensured that their voices are heard.
© 2022 Kentuckians For The Commonwealth