McKinley Sumner's stolen land
Where's the enforcement?
 "It makes me think that the state does more for the companies then they do for the property owners of Kentucky."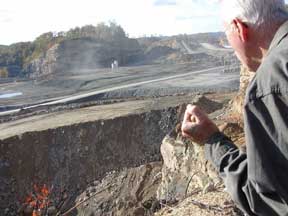 McKinley Sumner planned to spend his latter years in the home in Perry County where he was born. He was in his 70s, his health was good, he liked to garden and his siblings were happy to have him taking care of the family homeplace.
That serene life was shattered in August 2006.
"I was out in the yard one day, and I heard this awful commotion. It didn't sound right to me, so I decided to go to the top of the mountain. I put on my boots to keep the copperheads and rattlesnakes away and headed up," Mckinley remembers.
The coal company already was mining in the adjacent holler, and had literally removed the other half of the mountain. What McKinley found was that they were now mining his family's land! About 15 feet of the top of the ridge had disappeared – hauled off and forever gone.
"ICG had approached my siblings and I about selling or leasing them our land that is about 63 acres. I told them a number of times that we did not want to sell to them because I wanted to live out my days here on the land I grew up on.
"This company did me dirty on George's Branch, and I didn't trust them. [So] I put out a lot of money, about $7,000 in total, from my own pocket to make sure I knew where the property lines were and that the lines were well marked.
"They had gone down one ridge and bulldozed a road and took out the survey. And then the came down this other ridge and mined. They took every float and every peg I had down the ridge. It cost me another one thousand fifty dollars to have the pegs replaced.
"A few evenings after this happened a representative from ICG called me. They said it was a mistake, and that they would make it good. I don't think it was a mistake. I think the company wanted to see how far they could push me. They couldn't say that it was a mistake because my property lines were well marked, and there was a big white oak tree that was well-marked by the surveyor where the property lines were. I had talked with them a number of times before and told them that they weren't to get on my property."
This began years of aggravation for McKinley and his sisters, Maude and Shirley. State officials did issue ICG a citation for mining off its permit but would not collect a fine. The company offered to buy out McKinley so it could mine all the property. It made low offers to compensate for damages. When McKinley refused these offers, they would call his sisters in Indiana and complain that McKinley was being unreasonable – trying to turn them against McKinley.
"I can't sleep a night because I lay worrying about this," McKinley said during the middle of all this.
The family stuck together. With a lot of persistence over three and a half years, the family got an agreement with ICG to address the problems. Part of that agreement required the company to plant trees and replace the soil. But even then, it took months after they promised they would for the company to actually do that.
"I'm glad I didn't give up because you can get something done!" McKinley reflected.
© 2023 Kentuckians For The Commonwealth