Rick Handshoe's Water
"I am often asked by public officials, 'What is it that you people want?' It's not really that big of a mystery. I want our water quality and mining laws to be enforced. I want public agencies and elected leaders to hold coal companies accountable and make them do everything possible to fix the problems they have caused. I want the health of my family and neighbors to be valued more than coal company profits. I want state and federal agencies to stop giving new mining permits in our mountains if they can't prevent problems like what's happened to my community. And I want elected officials to get serious about helping to create a different economy in this region, one that doesn't depend on destroying our land and water."
Rick Handshoe

KFTC has published two reports with Rick about problems with his streams and the lack of effective response from state officials: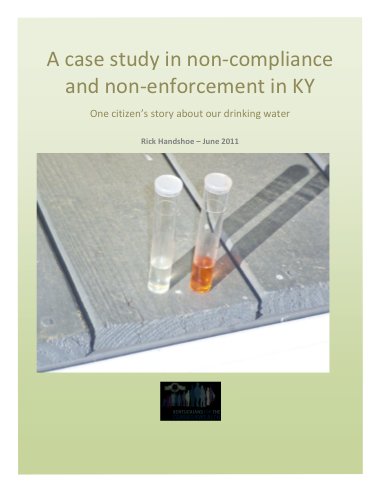 This report documents repeated water quality violations during the spring of 2011 on one of the streams on Rick's property.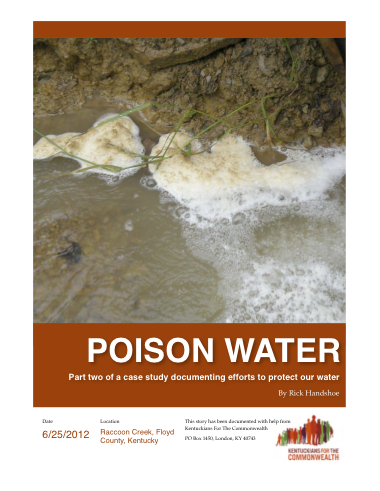 This  2012 report describes recent problems with poison water and landslides behind Rick's house.

Click images to download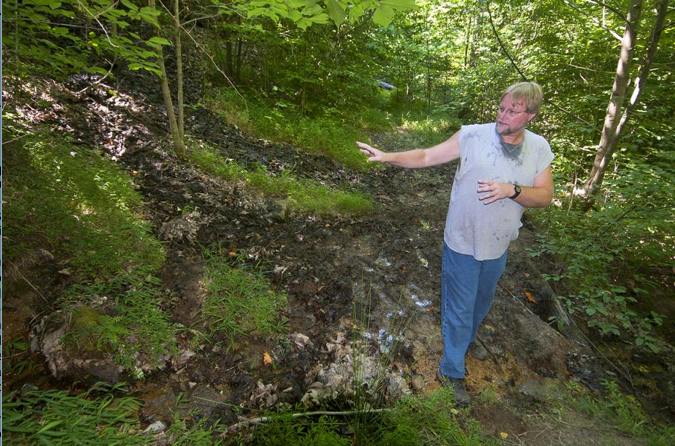 Click here to read Washed Away Dreams, an article about Rick Handshoe published in the Ashland Independent Daily, and here to read a followup article.

Contaminated Water
Rick Handshoe is a citizen of Hueysville, Kentucky who, due to the inaction of state officials, has been forced to take matters into his own hands.
Rick's family has lived along the banks of Raccoon Creek for over 200 years. As a child, Rick used to play in the creek, just like the children of generations before. But the creek is no longer safe to play in because of the pollution from the discharge pipe off a mining site owned by James River Coal Company. The creek is now dead – it cannot sustain any wildlife.
Since 2006, Rick has done everything possible to bring attention to this issue so that coal companies will be held accountable by the government. He has hosted officials and journalists at his home and contacted numerous government agencies about the environmental damage. Gov. Steve Beshear even visited Rick's home in April 2011 to view firsthand the impact on his water caused by a lack of enforcement on an irresponsible coal company. Still, state agencies have not acted.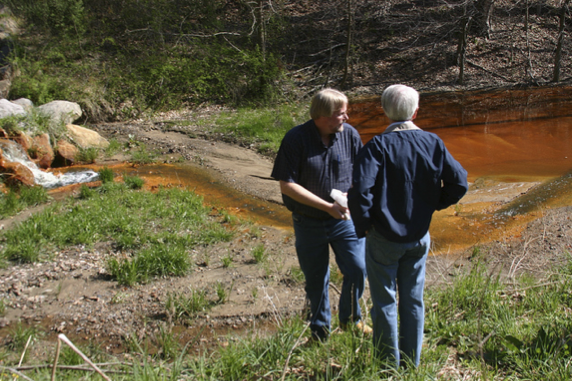 In fact, Rick's water quality got even worse after Beshear's visit. The water in his creek ran orange several times between March and June 2011. The first two times state inspectors came out and wrote violations for the company. The third time, an inspector came a few days later. By the fourth time, two state agencies did not respond to Rick's complaints – the Division of Mine Reclamation and Enforcement (DMRE) and the Division of Water. When someone from DMRE finally came out to see the damage to the pond, he did not issue a violation.
Rick said, "[Robert Francis of the Division of Water] told me that they don't respond to orange water because there is nothing they can do about it. I said, 'You are absolutely wrong. You can cite them for violations, and you can make them turn the caustic soda back on to treat the water.'…And whether they can fix it or not, it's still a violation.
"He told me, 'We'll respond next time.' I said, 'But you let this water run into this stream for five solid days, 24 hours a day. We are drinking this stuff. Babies are drinking formula. Your department let DMRE bully them around.' I agreed that my stream is dead. It's been dead for a couple years now. But this water is supplying drinking water for tens of thousands of people."
It's likely that these agencies' refusal to respond is not a coincidence. When three or more serious violations occur in a certain period of time, a company can receive a "pattern of violations," which results in more severe penalties. "It seems possible to me that the state agencies are doing what they can to help [the companies] by refusing to respond to citizen complaints," Rick said.
Most Recent Problems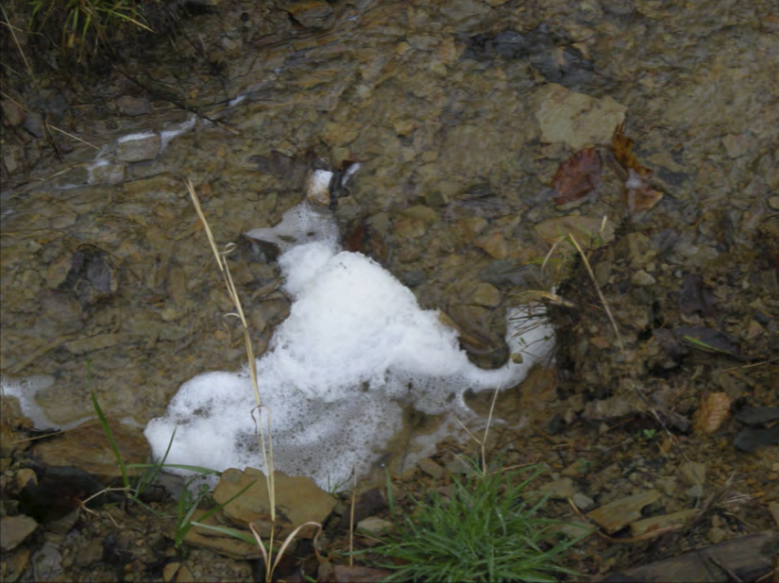 New problems emerged in 2012 when Rick began to notice white foam on his creek, a sign of high acidity. Because the surface mine is on a mountain that was once used for deep mining, something happened that put pressure on the acidic water in the deep mines, so it is now coming to the surface and getting into the stream.
Rick reported the acidity problem in January. Several months later, both DMRE and the Division of Water have come to Rick's property to see the damage. "They've watched along with me, as the water quality has grown from bad to worse. But they haven't taken any action. They continue to let poison water run down this hill."
In April, Rick noticed water was flowing into the stream from a different spot. When he investigated, he found a large hole in the side of the mountain that acidic water was shooting out of into the stream. This constantly running water is causing the mountain to move.
"I believe this is a life-threatening situation I'm in right now," Rick said. "The mountain is moving. If the mountain blows, there is no time to get to safety. The problem is 500 feet above my house. There is nowhere else for the water to go."
The Office of Surface Mining sent federal inspectors to assess the damage. They were shocked, noting that there were several violations. But no state inspectors had issued any.
The conductivity and acidity of the stream continue to rise. Many instances of pollution by the coal company have yet to receive a violation. Water is still shooting out from the mountain, quite possibly putting Rick's home below it at severe risk of flooding. And yet officials have not responded in a way that could help put a stop to it. This situation is extremely frustrating for Rick and for the community whose water supply is affected by a company's irresponsibility.
"Somebody needs to tell me what more a citizen has to do to hold coal companies accountable and get mining laws enforced. When state agencies won't respond, where are we supposed to turn?"
© 2023 Kentuckians For The Commonwealth