Stream Saver Bill
In 2005, Kentucky became the first state in the nation to propose a bill that would end the dumping of mining wastes into headwater streams, one of the most destructive aspects of mountaintop removal mining. This legislation has been introduced in every session of the Kentucky General Assembly since.
Some Consequences of Burying Headwater Streams
increased flooding, upstream and down
increased water treatment costs
loss of recreational uses
increased sedimentation and erosion
altered stream chemistry and temperature
loss of nutrient sources essential for downstream water quality and aquatic life
unhealthier people
The bill is simple, but would be an important and immediate step toward ending the destruction of Kentucky streams. It would prohibit the dumping of toxic mine wastes into "an intermittent, perennial, or ephemeral stream or other water of the Commonwealth" and direct that mine wastes be placed back on the mine site as part of the reclamation process (already specified in state and federal law) or placed on a previously mined site — rather than pushed over the side of the hill into valleys and streams below. This would end most valley fills  and greatly slow mountaintop removal mining, and allow our badly polluted streams a chance to recover.
Because legislative leadership is dominated by coal interests, the Stream Saver Bill is not allowed to be brought up, considered and voted on. Each year it is assigned to the House Natural Resources and Environment Committee (or the equivalent committee in the Senate) that is dominated by coal industry legislators. The chair of that committee, Rep. Jim Gooch, has financial interests in the coal industry and is a climate change denier.
The exception was in 2008, when Rep. Harry Moberly allowed two days of hearings in the House Appropritions and Revenue Committee. The bill received a favorable vote but fell two votes short of passage. Moberly later lost his committee chairmanship.
"These headwater streams provide essential goods and service...Rivers are networks, and their downstream navigable portions are inextricably linked to small headwaters just as fine roots are an essential part of the root structure of a tree or our own circulatory system is dependent on the function of healthy capillaries.  The small ephemeral stream is not isolated from the mighty river."
– from a letter signed by 85 professional aquatic scientists with broad knowledge and expertise in stream ecosystems, all members of the National Academy of the Sciences, April 2003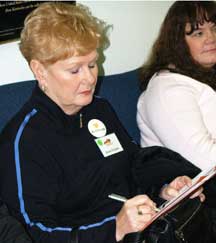 "We can't just destroy our mountains and streams. We are the stewards of the earth. There is nothing more important."
Joyce Frazier
Lawrence County
 A Public Outcry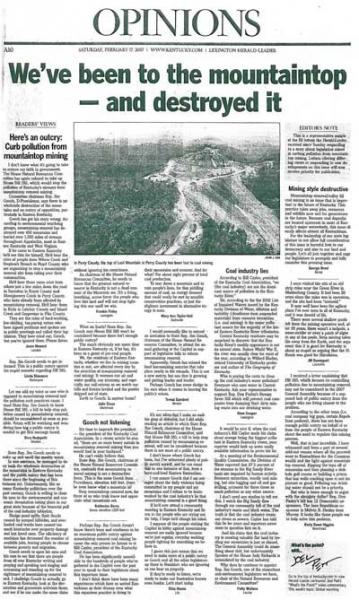 In 2007, Rep. Jim Gooch claimed there was no public outcry about mountaintop removal mining and valley fills, and therefore no need for a hearing on the Stream Saver Bill. On the following Saturday, the Lexington Herald-Leader published more than a dozen letters from people all around the state, outraged by Gooch's comments. The paper had received more than 60 such letters in just a few days.
Resources
Download a copy of the Stream Saver Bill as introduced in the 2013 General Assembly.
Download KFTC's Stream Saver flyer.
View below a 40-minute press conference video with scientists citing evidence of permanent environmental damage and risks to human health froim mountaintop removal mining.
© 2023 Kentuckians For The Commonwealth