Empower Kentucky will build a state energy plan "that works for everybody"
Posted by: KFTC staff on October 20, 2015 at 03:28pm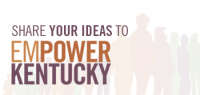 Empower Kentucky, an ambitious project to re-shape Kentucky's energy future based on a vision "that works for everybody" was announced today by KFTC members.
"Over the next year KFTC will invite thousands of people from all walks of life to share their vision and ideas for transforming Kentucky's energy system," said Sean Hardy of Louisville. "Then, together, we will write our own energy plan, one that works for everybody, all of us.

"The Empower Kentucky plan will describe home-grown solutions to strengthen our economy, protect health and support a just transition for workers," he added. "It will show ways Kentucky can meet or exceed the EPA's climate standards while benefiting people – from those living near strip mines to those living in the shadows of smokestacks in Rubbertown or south Louisville."
"What's the benefit of staying on the sidelines while the rest of the world moves forward? We can do better than that. We have to do better than that." – Carl Shoupe
The announcement launches a months-long process in which KFTC members will conduct interviews, hold listening sessions and public forums, collect online surveys and engage in door-to-door conversations to invite Kentuckians to share their best ideas about ways to transform how Kentucky generates and uses energy.
A new website – www.empowerkentucky.org – has been set up to collect online surveys as well as share information and resources, said Miranda Brown of Lexington.
"On the homepage we invite you, and all Kentuckians, to answer a few important questions," said Brown during a webinar with KFTC members and the media. "What's your vision for a bright energy future in Kentucky? And what do you think it will take to move in that direction?
"We genuinely want to learn your perspective and ideas."
The input will help KFTC – along with allies, consultants and government agencies – write a plan that begins to "make energy transition in ways that generate good jobs, helps people save energy and money, and improves health," said KFTC Chairperson Dana Beasley Brown.
Empower Kentucky will take advantage of the opportunity created this summer when the U.S. Environmental Protection Agency issued the long-awaited Clean Power Plan rule that requires states to significantly reduce their carbon pollution. Kentucky must reduce its pollution by 41% by 2030. It has until next September to submit a plan on how it will do so.
"The Clean Power Plan invites each state to write its own energy plan," explained Chris Porter of Lexington. "This new federal rule requires states to significantly reduce our carbon pollution from electric power plants by 2030. And, it gives us the opportunity to say how we get it done.
"We can, for example, choose to invest in energy efficiency programs that help residents and businesses slash their energy use. They can expand renewable energy production, including wind, solar and hydroelectricity. They can make existing power plants more efficient. They can switch to less polluting fuels. Or they can choose to put a tax on carbon pollution or participate in a pollution trading system.
"Importantly, if a state chooses not to write its own plan – and that seems highly likely in Kentucky's case – the EPA will impose a one-size-fits-all rule. That means our utilities – and our ratepayers, our neighbors and friends – will have to pay penalties for our excess carbon pollution … which is likely to be very, very expensive for us."
Gubernatorial candidates Jack Conway and Matt Bevins have said they will not comply with the EPA rule if elected governor, and independent candidate Drew Curtis initially took the same position but has since acknowledged that the consequences of not complying would create a hardship for Kentuckians.
In 2014 state legislators passed a law (HB 388) specifically prohibiting any state agency from developing a plan that could meet the EPA's greenhouse gas reduction goals – even before the EPA rule was announced.
"It makes me angry and tremendously upset to hear politicians say Kentucky should refuse to come up with a plan to comply with the Clean Power Plan. And it's outrageous that our legislature has passed a law preventing Kentucky from complying with the rule," said retired coal miner Carl Shoupe of Harlan County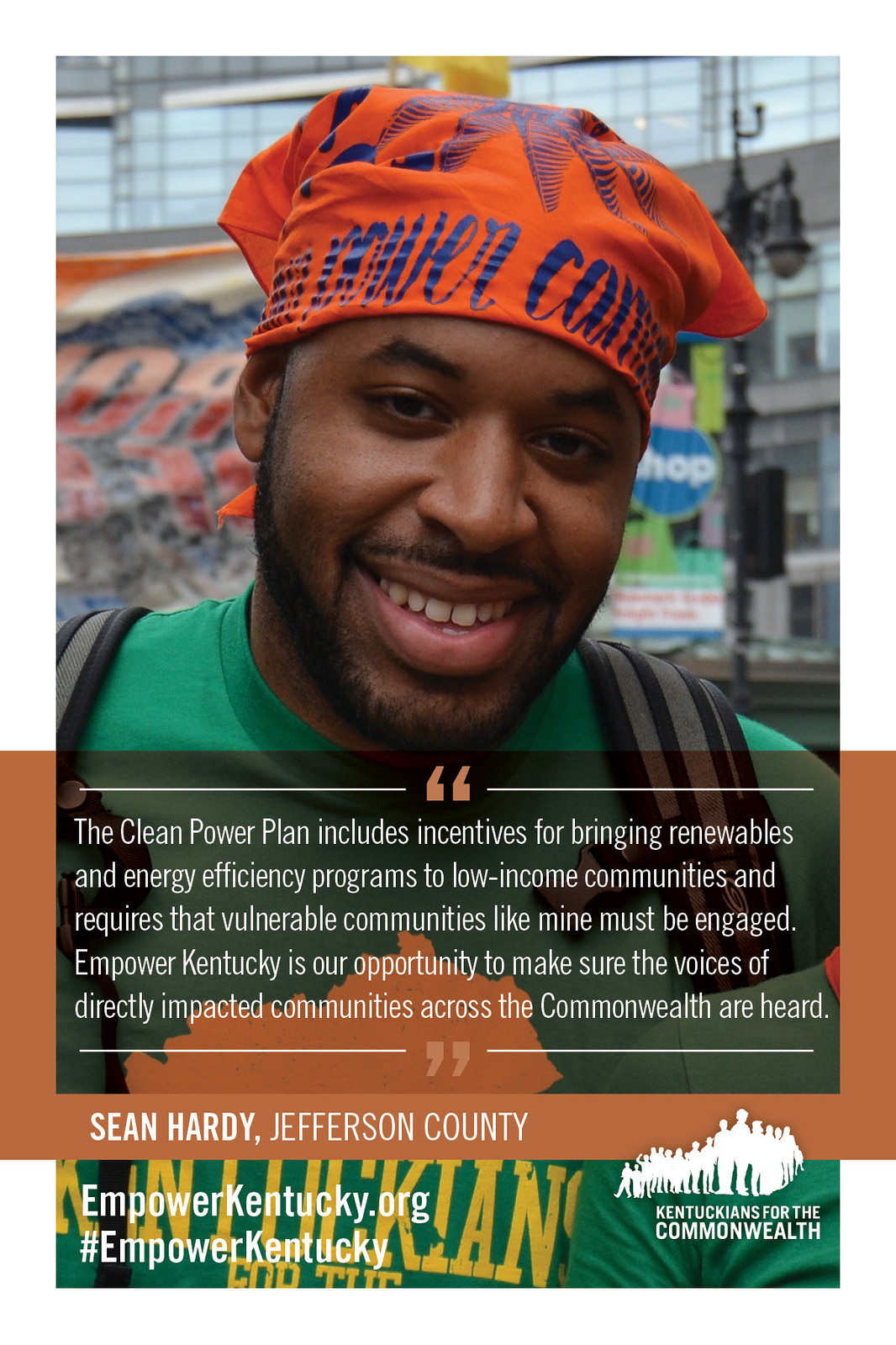 "What's the benefit of staying on the sidelines while the rest of the world moves forward? We can do better than that. We have to do better than that," he added.
The actions of political leaders creates a strong possibility that Kentucky will not develop a plan to meet the EPA requirements or deadline.
"Yes, we are taking this leadership role because the state has abdicated its role," said Steve Wilkins of Berea in response to a question from the media.
"It's not that the state agencies have necessarily abdicated, it's that they've been hemmed in by HB 388," added Porter. "We need to offer up solutions and visions."
"It not going to be easy at all, but together we can develop home-grown solutions and transform our energy system to create tens of thousands of new jobs for Kentuckians, protect our health, provide affordable energy and do our part to address climate change," said Chris Woolery, a residential energy expert with the Mountain Association for Community Economic Development.
One of the goals of Empower Kentucky, explained Hardy, is to "generate the shared political will to make those common sense ideas possible here in Kentucky. Our communities can't afford to wait for better leadership. We've got to provide it ourselves."
That is why, several of the webinar speakers noted, building grassroots engagement in the project for the long term is critical to its success.
May 16, 2021
| Lexington Herald-Leader
April 27, 2021
| The Courier-Journal
April 8, 2021
| Lexington Herald-Leader
Featured Posts
Meredith Wadlington on September 22, 2020
Lisa Abbott on June 9, 2020
Caitlin Sparks on May 9, 2020
© 2023 Kentuckians For The Commonwealth