Jefferson County co-hosts grassroots lobby training
Posted by: KFTC staff on March 10, 2015 at 06:19pm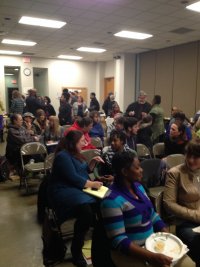 The Jefferson County Chapter of KFTC (JCKFTC) partnered with eight local allies to host a Grassroots Lobby Training on January 27. This two-hour training was free and open to the public and was attended by nearly 80 community members, a majority of whom were new to grassroots lobbying.
The chapter decided to organize the training to build on the momentum of their recent voter registration drive, which added nearly hundreds of new voters to state rolls, and recent protests in the wake of the police killings of unarmed citizens in Missouri, New York, and Ohio. JCKFTC wanted to provide voters, protestors, and other residents the tools needed to turn demands into policy change.
"Policy change and forceful legislation are at the heart of the Black Lives Matter movement," said Chanelle Helm, activist with Women in Transition and founder of Stand Up Sunday. "When we collectively rise up, we are choosing to become engaged. For some of us action is through direct action, for others it is through policy change."
In early December JCKFTC reached out to dozens of local allies about inviting them to co-host a grassroots lobby training before the 2015 Legislative Session was in full swing. ACLU of Kentucky, Fairness Campaign, Homeless and Housing Coalition of Kentucky, League of Women Voters of Louisville, Louisville Alumnae Chapter of Delta Sigma Theta Sorority, Louisville Showing Up for Racial Justice, Center for Women and Families PACT in Action, and Preservation Louisville were the 8 allies that signed on to co-host. All Louisville residents interested in grassroots lobbying and advocacy, on any issue, were encouraged to attend and organizers contacted local media about the training and reached out to their networks via social media and action alerts. 
Co-hosts spent December and January crafting the training agenda and materials and worked together to facilitate the training, which focused on the legislative process and provide best practices on how all Kentuckians can make their voices heard on local, state, and federal policy. Former Metro Louisville Councilwoman Attica Scott reviewed ways to lobby and advocate using social media. KFTC member Michael Hiser shared his story as a returning citizen lobbying for House Bill 70, the Restoration of Voting Rights bill.  Following Michael's story, 5 co-facilitators acted out a grassroots lobby meeting regarding House Bill 70 with a state legislator. Participants observed some lobbying do's and don'ts and later had a chance to practice their lobbying skills with a fellow participant.
Kentucky Jobs with Justice organizer Nate Jones said, "It was one of the best single trainings I've been to, and the participation of multiple organizations was really powerful." Reflecting on the training, KFTC member and co-facilitator Pam Newman said, "there were so many people there, and that was great! I also think it's reflective of this being a critical time to provide trainings and encourage folks to be involved and discover their social justice niche." Long-time KFTC member KA Owens said that the training was the most well attended and diverse KFTC trainings he's ever seen. 
Following the training organizers emailed a survey to all attendees asking for their feedback and ideas about future trainings.  One survey respondent wrote that they enjoyed "the inclusion of a diversity of organizations and perspectives. This made the training successful both as a form of empowering new activists with the tools and confidence to participate in this months legislative session, and as a means of linking already active people and organizations to better coordinate the efforts of the progressive community in Louisville."
Another survey respondent wrote, "The speakers were great! The material they presented was easy to understand and engaging. It was at an appropriate level for someone like me who is still relatively new to grassroots lobbying!"
A majority of survey respondents felt ready to lobby after the training and planned to lobby during the 2015 Legislative Session. Those who didn't feel ready to lobby shared that having someone to ride to Frankfort with or having a group to lobby with would help them feel more prepared.
One participant stated that she has already shared what she learned with others. "I was very inspired by the people presenting and the large attendance. So many people wanting to do so much for local and federal change is incredibly motivational. I told many friends via online media, 'liked' a few organizations [on Facebook], and made plans to attend a lobby day."
Survey respondents also shared that they would like to attend future trainings on strategic organizing, sharing their stories, how to do a power analysis, and Train the Trainer workshops. JCKFTC and fellow co-hosts hope to work together later this year to offer these types of community-wide leadership development trainings.
May 16, 2021
| Lexington Herald-Leader
April 27, 2021
| The Courier-Journal
April 8, 2021
| Lexington Herald-Leader
Featured Posts
Meredith Wadlington on September 22, 2020
Lisa Abbott on June 9, 2020
Caitlin Sparks on May 9, 2020
© 2023 Kentuckians For The Commonwealth