KFTC members and allies claim the House, meet with Bevin
Posted by: KFTC Staff on February 5, 2019 at 07:29pm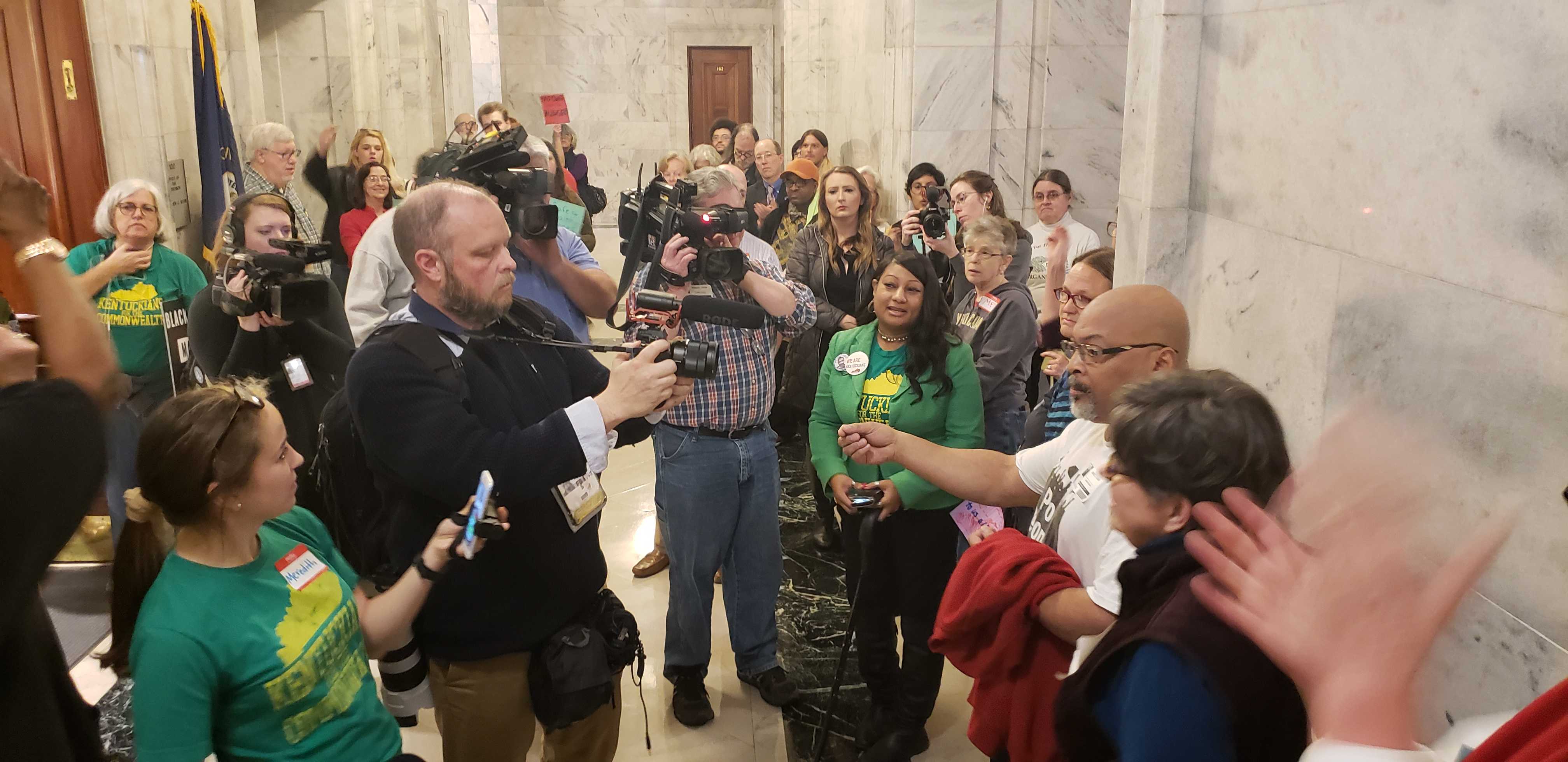 Chanting "Whose House? The people's House! Whose House? Our House!" KFTC members sent a message to legislators and the governor that Kentuckians have a right to be in the capitol.
As the legislature resumed on February 5 after a recess, members were in Frankfort to lead a series of "spontaneous" mini rallies that started small and grew in number as participants moved throughout the capitol annex toward the governor's office. Why mini-rallies? One of Gov. Matt Bevin's new regulations to limit public participation defines a rally as four or more people.
Each rally focused on a section of KFTC's vision statement, such as "The lives of people and communities matter" and "Discrimination should be wiped from our laws, habits and hearts."
In kicking off the first rally, member Alan Smith of Warren County said, "We're here to take our House back. We're mad at what the governor's been doing for almost a year, trying to keep regular Kentuckians out of this capitol. He doesn't own this capitol. He doesn't own our government. The people do. And so we're here to let our voices be heard and to take this House back."
"We still have a whole lot of work to do, whether it's taxes, whether it's housing, whether it's clean energy – we need to be here in our House and we need to be heard," added KFTC chairperson Meta Mendel Reyes of Madison County.
Since last summer, groups including the Kentucky Poor People's Campaign: A National Call for Moral Revival and Kentucky teachers were blocked from entering parts of the capitol or told they couldn't assemble. When folks gathered January 8 for the first day of the 2019 General Assembly, several public areas of the capitol and annex were off limits to the public.
The tunnel connecting the capitol to the annex was later re-opened after public protest, so when members gathered on February 5 they took time for a ribbon cutting ceremony.
As the rallies culminated in front of the governor's office, KFTC members joined members of the Kentucky Poor People's Campaign who had organized a sit-in. After the crowd shared some speeches, chants and singing, they were told that the governor would meet with them down the hall.
Click here to watch the video of Governor Bevin meeting with the Poor People's Campaign and KFTC members, who talked with him about voting rights, health care, state pensions, safe schools and more. KFTC member Serena Owen of Boone County reminded the governor that he had previously met her and her daughter shortly after he was elected, when they needed his help with a healthcare matter. "Remember us, Governor?" Others joined in, telling the governor, "Remember us."
Though not impressed with Bevin's performance in the meeting, folks were grateful for the opportunity to lift up important issues. "We had a roomful of reporters who were reporting on the issues that are important to us," said Rev. Megan Huston, a Poor People's Campaign leader from Bowling Green.
KFTC member Amanda Groves traveled from Marshall County to take part in the day. "I'm here because it's just so important that we have a voice and that we let our legislators know who they represent and that we pay taxes and we are citizens of this commonwealth. We deserve to have access to our House and to our legislators and to the people who are making decisions that affect our lives. They need to hear our voice."
Rep. Patty Minter, a KFTC member elected in November from Bowling Green, also took part. "This is a commonwealth for us all," Minter said.
Members also affirmed the election of Rep. Jim Glenn, who won a House seat by one vote in November. Glenn's victory was certified by the State Board of Elections, and he was seated in the House in January. But Republican House leadership formed an "election contest board," which chose to recount the votes. The recount resulted in a tie, amid controversy about counting additional votes. To remove Glenn from his seat would require an impeachment process.
"The people spoke. Let the people have their voice," Groves said of the Glenn situation. "If you think you can do better, come back and run again and have better ideas. The people spoke."
May 16, 2021
| Lexington Herald-Leader
April 27, 2021
| The Courier-Journal
April 8, 2021
| Lexington Herald-Leader
Featured Posts
Meredith Wadlington on September 22, 2020
Lisa Abbott on June 9, 2020
Caitlin Sparks on May 9, 2020
© 2023 Kentuckians For The Commonwealth