Lawsuit challenges EPA on coal ash protections
Posted by: Jerry Hardt on April 4, 2012 at 08:00pm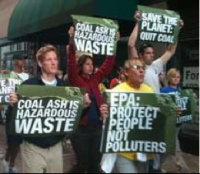 KFTC joined a nationwide coalition of groups to sue the U.S. Environmental Protection Agency. The legal action, filed late yesterday, is designed to get the EPA to finalize rules to prevent public exposure to toxic coal ash.
EPA has delayed the first-ever federal protections for coal ash for nearly two years despite growing evidence of leaking ponds, poisoned groundwater supplies and threats to public health. A recent independent analysis of EPA data added 30 more power plants in 16 states to the list of coal ash dump sites with contaminated groundwater.
"The number of coal ash ponds and landfills that are contaminating water supplies continues to grow, yet nearby communities still do not have effective federal protection," said Earthjustice attorney Lisa Evans, who filed the lawsuit for 10 local, statewide and national groups. "It is well past time the EPA acts on promises made years ago to protect the nation from coal ash contamination and life-threatening coal ash dumps."
In Kentucky, there are 44 coal ash disposal sites located at 17 coal-burning power plants spread across the state. They are used to dispose of more than 9 million tons of toxic coal wastes produced annually, the fifth highest total in the nation.
According to a 2007 EPA risk assessment, 10 of the ponds and landfills in Kentucky are unlined. Of these unlined sites, eight have no leachate collection systems and five have no groundwater monitoring systems. Eight ponds are rated "high hazard." Six are rated "significant hazard." Nineteen are not yet rated. Many (20 0f 43) were not designed by a professional engineer, and most (27 of 43) were not constructed by one.
The coal ash ponds in Kentucky have significant problems:
Groundwater monitoring at the Louisville Gas & Electric Mill Creek Station found arsenic, sulfate and total dissolved solids exceeding federal standards in a contaminant plume one mile wide, potentially endangering off-site use of shallow drinking water wells. EPA reports pond at the Mill Creek Power Station has "major structural integrity issues."
The East Kentucky Power Cooperative coal ash landfill at the Spurlock Power Station (Mason County) has contaminated groundwater since at least 2005 with arsenic, iron, sulfate and TDS. Arsenic has reached 16 times the drinking water standard in an off-site well. The disposal site discharges to three receiving streams that flow into the Ohio River.
Onsite groundwater at the TVA Shawnee Fossil Plant (McCracken County) is contaminated with arsenic, boron, selenium, sulfate and TDS exceeding federal standards and health advisories.
An estimated 300 tons of sulfate per year was leaking into the Ohio River from the Duke Energy East Bend Scrubber Sludge landfill (Boone County). EPA found on-site exceedances for total dissolved solids, iron, and sulfate.
Leaks, seepage or on-site contamination has been found at the Tyrone (Woodford County), Dale (Clark County), E.W. Brown (Mercer County), Paradise (Muhlenberg County), R.D. Green (Webster County), D.B. Wilson (Ohio County) and Trimble County power plants, according to the U.S. EPA and the Kentucky Division of Water. Data is not available for all power stations.
There have been numerous off-site releases of coal ash dust from the Cane Run Power Plant (Louisville), with documented contamination of homes in surrounding residential areas. LG&E wants to expand this landfill.
"Here in Louisville we are having problems with dust discharges from one of our big coal-burning power plants," said KFTC member Mary Love. "Our local Air Pollution Control District is doing what it can to force the power company to keep our air safe to breathe, but without federal standards on the hazards of coal ash, there is only so much they can do."
Today's lawsuit seeks to force the EPA to set deadlines for review and revision of relevant solid and hazardous waste regulations to address coal ash, as well as the much needed and overdue changes to the test that determines whether a waste is hazardous. In January, the groups gave EPA 60 days notice of their intent to sue if nothing was done.
May 16, 2021
| Lexington Herald-Leader
April 27, 2021
| The Courier-Journal
April 8, 2021
| Lexington Herald-Leader
Featured Posts
Bonifacio Aleman on September 26, 2023
Bonifacio Aleman on September 26, 2023
Bonifacio Aleman on September 26, 2023
© 2023 Kentuckians For The Commonwealth