NKY chapter hosts Coffee for the Commonwealth
Posted by: Joe Gallenstein on March 28, 2020 at 09:34pm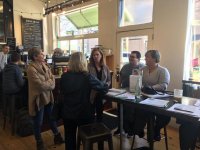 During this past session of the Kentucky General Assembly, members of the Nrthern Kentucky chapter hosted conversations at local coffeeshops with legislators. The events, inspired by Cafe LOUIE hosted at the Louiville Free Public Library, were held in each of the three counties of the chapter: at Roebling Point Books and Coffee in Covington, Velocity Bike and Bean in Florence, and Trailhead Coffee in Newport.
More than 50 members of the community came out to these three events, eager for a chance to have a conversation with their legislators about the issues they care about.
Legislators who attended included State Representatives Buddy Wheatley, Rachel Roberts, Kim Moser, Kim Banta and Ed Massey.
May 16, 2021
| Lexington Herald-Leader
April 27, 2021
| The Courier-Journal
April 8, 2021
| Lexington Herald-Leader
Featured Posts
Bonifacio Aleman on September 26, 2023
Bonifacio Aleman on September 26, 2023
Bonifacio Aleman on September 26, 2023
© 2023 Kentuckians For The Commonwealth