Scott County members participate in 16th Annual MLK March!
Posted by: Joe Gallenstein on January 17, 2018 at 01:07pm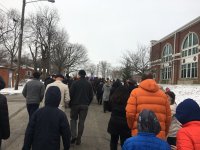 For the 16th straight year, the Georgetown-Scott County NAACP Unit celebrated Martin Luther King, Jr. Day with a march and program commemorating the legacy and message of the late civil rights leader. In the current environment that we are in, with growing income inequality, elected leaders playing to racial and religious differences, and a struggle to define what it means to be American, it was an important day to stand together.
The NAACP held a question and answer period at Georgetown College with Dr. Toussaint Hill, Jr., a nephew of Martin Luther King, Jr., and a pastor in Atlanta. Dr. Hill spoke about the message of his uncle, and answered questions from the crowd. He pointed to growing income inequality as the most important issue facing us today, the need for youth to continue to lead in the work towards justice, and spoke in favor of anti-discrimination legislation to protect LGBTQ+ citizens.
Many folks there shared the concerns of Dr. Hill regarding income inequality. Those in the crowd talked with each other about the need to protect pensions, a more just tax structure, and were excited to learn more about upcoming actions from the new Poor People's Campaign, which Kentuckians For The Commonwealth is a partner in.
KFTC members and others were also excited to hear Dr. Hill speak in support of Fairness. Over the past two years the local chapters of KFTC, the NAACP, and Fairness have been working to get a human rights ordinance to prevent discrimination against the LGBTQ+ community and to enact a human rights commission to help enforce a local human rights ordinance.
After the march ended, most attended a follow up event at Faith Baptist Church in Georgetown. This event included Dr. Hill, Pastor Fox of Faith Baptist Church, and other community members.
May 16, 2021
| Lexington Herald-Leader
April 27, 2021
| The Courier-Journal
April 8, 2021
| Lexington Herald-Leader
Featured Posts
Meredith Wadlington on September 22, 2020
Lisa Abbott on June 9, 2020
Caitlin Sparks on May 9, 2020
© 2021 Kentuckians For The Commonwealth