Scott County residents stop landfill expansion!
Posted by: Joe Gallenstein on April 9, 2018 at 12:03am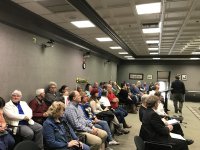 Since last January Scott County members have been working with others in the community to stop a proposed expansion of the landfill in the north end of the county. The landfill has been a source of local concerns regarding violations of state environmental protections, quality of live concerns, and increased traffic on a narrow stretch of US 25 that has resulted in several accidents.
The company that owns the landfill had been seeking a zoning change for up to 500 acres, and originally had hoped to do so without seeking a zoning change. When the Planning and Zoning Commissioner said they needed the zoning, several public meetings were held throughout the county regarding the application for new zoning. The company also sought to challenge the ruling that they needed the zoning change through the Scott County Board of Adjustment, which they lost. That hearing saw 100s come out to fill the Scott County High School auditorium to speak out against the landfill.
Several months later they requested a zoning change at the Scott County Planning and Zoning Commission. Again over 300 people came out to oppose the change, and the expansion was again denied. Finally, the company appealed to the Scott County Fiscal Court, which voted unanimously with the Planning and Zoning Commission.
While residents celebrate, and continue to work on the issue through the Scott County Neighbors for Health and Safety facebook group, the landfill company has filed suit claiming they did not need to change their zoning for the expansion. While the case proceeds, Judge Shepard will be overseeing the arguments.
Many involved in the work are hopeful that the victory against the landfill expansion will result in movement from the Georgetown City Council towards promoting curbside recycling, as well as a broader conversation around waste management in Scott County, and intend to use the momentum in this campaign to ensure that happens.
May 16, 2021
| Lexington Herald-Leader
April 27, 2021
| The Courier-Journal
April 8, 2021
| Lexington Herald-Leader
Featured Posts
Meredith Wadlington on September 22, 2020
Lisa Abbott on June 9, 2020
Caitlin Sparks on May 9, 2020
© 2021 Kentuckians For The Commonwealth