Senate Bill 2 passes as legislators override veto
Posted by: KFTC Staff on April 15, 2020 at 10:53am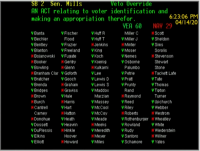 The final vote on Senate Bill 2 happened yesterday evening (April 14) to override Governor Beshear's veto.
If you want to know which representatives voted for a complicated 57-page bill to make it harder to vote in the middle of a pandemic, that's the representatives with the green "y"s next to their names (or you can view the roll call votes here). The Senate passed the same veto override earlier in the day. Then they celebrated suppressing the vote.
SB 2 is not slated to go into effect until the General Election in November, but it's not clear whether ID offices will be open then (they're closed now). Even so, many Kentuckians simply don't have or need photo IDs, particularly elderly Kentuckians and lower income Kentuckians who don't drive.
By adding extra hoops to jump through for voting in a pandemic, legislators are creating longer, slower-moving lines on election day sure to disenfranchise voters and put people at risk of infection.
The most likely next step is a lawsuit to stop implementation of this terrible bill, which Kentucky taxpayers will have to foot the bill for.
You also can check and see whether your legislator voted to make voting harder and remember that on election day. 
May 16, 2021
| Lexington Herald-Leader
April 27, 2021
| The Courier-Journal
April 8, 2021
| Lexington Herald-Leader
Featured Posts
Meredith Wadlington on September 22, 2020
Lisa Abbott on June 9, 2020
Caitlin Sparks on May 9, 2020
© 2023 Kentuckians For The Commonwealth