SOKY members canvass for Tax Justice
Posted by: the Southern Kentucky Chapter on June 16, 2017 at 01:46pm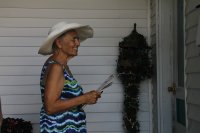 Members from the Southern Kentucky chapter engaged the Bowling Green community in conversations about tax justice last Saturday as part of a deep canvass session.
The day began with a training to equip members with deep canvassing skills and review the key conversation points before hitting the streets.
Between the three groups of participants we had 18 high-quality conversations with folks about what an equitable tax system looks like. Member Deane Oliva reflected, "Even though the folks we spoke with had little knowledge of the tax structure, the script gave us a comfortable entrée to discussion and the folks were all visibly engaged with the powerful graphics. In a short time, we raised awareness and made good contacts."
The day was productive and has members loooking forward to next steps. As member Dr. Alex Poole said, "It wasn't always easy, but if not us, then who? Getting together with like-minded people gives me hope. We can all do our part."
May 16, 2021
| Lexington Herald-Leader
April 27, 2021
| The Courier-Journal
April 8, 2021
| Lexington Herald-Leader
Featured Posts
Meredith Wadlington on September 22, 2020
Lisa Abbott on June 9, 2020
Caitlin Sparks on May 9, 2020
© 2021 Kentuckians For The Commonwealth