Southern Kentucky and Western Kentucky members see representatives sworn in despite new limitations on access to the Capitol
Posted by: Alexa Hatcher on January 17, 2019 at 04:50pm
On Tuesday, January 8, Kentuckians gathered at their Capitol for the first day of the 2019 legislative session. Members from the Southern KY and Western KY chapters gathered in the rotunda to take part in a silent vigil held by the Poor People's Campaign. Afterward, a meeting of the Kentucky Council of Churches set the tone for legislators in the coming months. The meetings shared our vision for Kentucky that upholds equity and the democratic process.
Another reason folks gathered at the Capitol was to support their newly elected representatives. Constituents of Patti Minter of House District 20 (Warren County) gathered in a small, stuffy overflow room to watch her get sworn in. Typically, a larger, more climate controlled overflow room is used, but it was left vacant this day for reasons unknown. Folks from House District 13 (Daviess County) were there to encourage House Leaders to seat their newly elected representative, Jim Glenn. Since late November, Glenn's victory had been contested by his opponent and the incumbent, DJ Johnson, partly because Glenn had won by only one vote. But after recounts confirmed Glenn's win, he was sworn in despite the ongoing disputes. (Read more about it here).
Mary Danhauer of Daviess County, Glenn's constituent, who was at the Capitol to witness his swearing in said,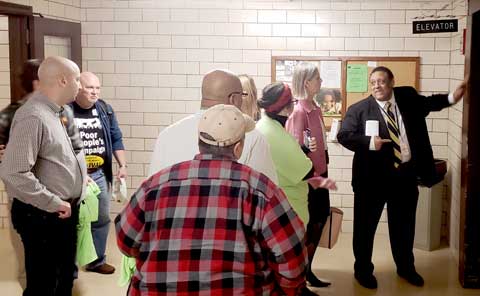 "It was certainly a spirit booster to be with other like-minded people. I was glad to be there to support Jim Glenn and I know that it was a difficult moment for him, not the exhilaration of winning, but cautiously walking into the chamber unsure of what the next days would bring."
Being packed together in an overflow room, unable to clearly hear or see the monitor that was broadcasting the House meeting happening just down the hall, was only one way that Kentuckians felt their access to their government was limited last Tuesday. In addition, access to the tunnel that folks can use to most easily commute from the annex to the Capitol was blocked as well as access to the third floor of the Capitol where their legislators meet. This comes after a state of emergency regulation issued by Governor Bevin. The limited access caused confusion for Janice Molloy, of Warren County, who was visiting the Capitol. She said "it made me feel unwelcome. The new rules seem more like a move to silence and avoid citizens than anything. The Capitol building belongs to everyone!" 
Without access to the tunnel, which is likely the only accessible path between the buildings for some folks, the ability to participate in their government is severely impacted. Details about the proposed regulation can be found here. 
A public comment period about the regulation is open until February 28, 2019. Comments should be written and sent to:
Judy Piazza, Executive Director
Kentucky Finance and Administration Cabinet
Office of Legislative and Intergovernmental Affairs
Room 392, Capitol Annex
Frankfort, KY 40601
May 16, 2021
| Lexington Herald-Leader
April 27, 2021
| The Courier-Journal
April 8, 2021
| Lexington Herald-Leader
Featured Posts
Meredith Wadlington on September 22, 2020
Lisa Abbott on June 9, 2020
Caitlin Sparks on May 9, 2020
© 2022 Kentuckians For The Commonwealth