Rowan County KFTC chapter member
Kinder Morgan's hazardous liquids pipeline threat is the focus of Earth Day events across the state
Additional contacts
Mariah Harrod
Centre Environmental Association
502-370-8868
Chris Schimmoeller
502-226-5751
Residents in many of the communities that will are threatened by Kinder Morgan's proposal to repurpose the Tennessee Gas Pipeline to carry hazardous liquids are expressing their concern this Earth Day. Events range from walks along the pipeline route to door-to-door neighborhood leafleting to a dramatic song/story presentation about fracking by Clear Creek Creative.

Mariah Harrod with Centre (College) Environmental Association is helping organize a walk to place warning flags along part of the pipeline route to demonstrate how "terrifyingly close" it is to business and residential areas in the community.
"We are particularly excited about this event that will be held on Friday that we are titling 'Pipe up Against Environmental Injustice,'" Harrrod said. "Students and faculty will be taking a guided tour to a nearby access site to the pipeline to spark some healthy discussion about environmental issues and injustice. In conjunction with the walk, we are hoping to host a camp out/demonstration on Centre's lawn."
Chemists and safety experts have warned that the hazardous liquids that would be transported through a repurposed pipeline are 150 times more dangerous that the natural gas that flows through it now. That danger is increased with the age of the pipeline and the need to reverse the direction of its flow.
"We will place flags along the pipeline and raise awareness about the high probability and destruction a leak from this 70-year-old pipeline," Harrod added.
Chris Schimmoeller of Franklin County helped create red warning flags to place in public areas along the pipeline route.
"In the Bluegrass Pipeline fight it was the surveyors' flags that had the biggest effect in alerting people that something was happening," Schimmoeller explained, referencing a similar hazardous liquids pipeline proposal that was stopped when blocks of landowners refused to sell easements to the company.
The flags carrying the message: "WARNING: You are in Kinder Morgan's high-pressure hazardous liquids pipeline zone!"
In Rowan County, members of the local chapter of Kentuckians For The Commonwealth will be leafleting and talking to residents in two neighborhoods that the pipeline passes through, as well as tabling at Morehead State University Earth Day events.
"I live and work near the pipeline proposed for repurposing to carry natural gas liquids. I cross the pipeline route multiple times each day. I am particularly concerned about Tilden-Hogge Elementary School, which is near the pipeline, and where I work as a substitute teacher and substitute janitor," said KFTC member Erik Lewis, who recently presented his concerns to the site-based council.
Other Earth Day pipeline awareness activities include:
the Kentucky Student Environmental Coalition will lead pipeline discussions at HuckabaLOU in Louisville sponsored by Our Earth Now;
in Madison County, door-to-door leafleting about the pipeline will take place in a couple of affected neighborhoods.  (Contact Katie Gardner 606-767-9728)
residents in Danville in will table at that community's Earth Day Festival (Jim Porter  at 859-583-5299)
Clear Creek Creative will present the dramatic presentation "Land, Water, Food, Story" at the Springfield Green Festival on April 30; it explores the vulnerability of people approached by land agents seeking land and minerals for fracking. (Contact Claire McGowan 859-336-5070)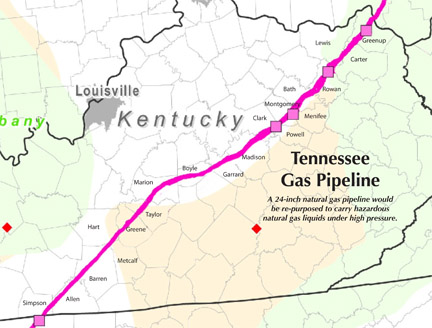 The proposed Kinder Morgan repurposed pipeline runs through 18 Kentucky counties and would carry 400,000 barrels of hazardous liquids per day. When a leak occurs, most of the liquids turn to gas and settled in low-lying areas. A spark, such as from a tractor or car, can set off an explosion.
"Kentuckians are literally waving a red flag about fracking and its related pipelines," said Chris Schimmoeller of Franklin County. "This industry is not compatible with a state economy based on clean air, clean water, agriculture and tourism."
######
© 2023 Kentuckians For The Commonwealth