Just Transition town hall and actions to help us all THRIVE
Posted by: KFTC Staff on April 7, 2021 at 07:25am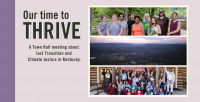 KFTC and allies hosted a virtual town hall on March 31 to spotlight the inspiring ways Kentuckians are shaping a Just Transition to a just, anti-racist and sustainable future in Kentucky. U.S. Rep. John Yarmouth joined members of KFTC and ally groups to discuss and highlight federal policies needed so all people – no matter where we live or the color of our skin or how much money we have in our pockets – can THRIVE.
Watch the full virtual town hall here: https://vimeo.com/533242110 and take these action:
Send a message to Kentucky members of Congress, urging action on a Just Transition by supporting the THRIVE Agenda and For The People Act to protect our democracy.
RSVP now for a Just Transition Art Show Virtual Launch Party on May 19 at 7 p.m. ET, featuring works by more than 40 musicians, visual artists, poets and others about their visions for a just, anti-racist and sustainable Kentucky. RSVP at bit.ly/Just-Imagine-Art-Show
Commit now to participate this summer and fall in canvassing trainings and door-to-door conversations with our neighbors about the Just Transition solutions we need to thrive. 
May 16, 2021
| Lexington Herald-Leader
April 27, 2021
| The Courier-Journal
April 8, 2021
| Lexington Herald-Leader
Featured Posts
Bonifacio Aleman on September 26, 2023
Bonifacio Aleman on September 26, 2023
Bonifacio Aleman on September 26, 2023
Comments from KFTC and allies in 2022 LG&E / KU case before KY Public Service Commission
KFTC, Mt Association, KSES, Metropolitan Housing Coalition, Earth Justice, Kentucky Resources Council
Sign-on letter to Congress calling for transformation of rural electric cooperatives
Rural Power Coalition
Black Lung and Miner Protection bills in 2020 General Assembly
Kentuckians For The Commonwealth
© 2023 Kentuckians For The Commonwealth