Kentuckians organize for climate justice
Posted by: Lisa Abbott on April 6, 2017 at 10:36pm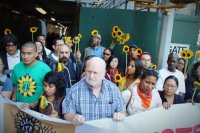 This is a critical time in the movement to create jobs, protect our health and climate, and advance a just transition for affected workers and communities.
President Trump and Republicans in Congress have begun taking steps to abandon U.S. climate policies and commitments while enriching fossil fuel industries. If carried through, these measures put Kentucky's health, economy and environment in danger, while doing nothing to support workers or build a healthier, sustainable economy in communities affected by the decline of coal jobs.
KFTC members and many Kentuckians are determined to resist proposed anti-climate actions, while continuing to make progress towards a just, clean energy economy wherever possible, especially in local communities.
"I'm stunned that any administration would disrupt 50 years of bipartisan efforts to improve the air we breathe and the water we drink," said Steve Wilkins, a KFTC member from Berea. "How easy it is to forget days when people died from chemical hazes and when rivers burst into flames because our companies used our air and water as their dumping grounds."
"I'm concerned about Trump's actions to rollback climate policies because of my children. His announcements threaten their future," pointed out Dana Beasley Brown, KFTC's immediate past chairperson. "We have the time right now to change our course of action and give our kids the best chance to thrive. But we also know the grave risks our children face if instead we do nothing to address climate change."
Among many alarming actions taken by the Trump administration and Congress to reverse course on protecting our climate, health, and communities, a few stand out:
Trump's proposed budget cuts the EPA by 31% and eliminates US contributions to a global climate fund. Among many programs affected is federal funding for Louisville's program to reduce toxic air emissions.
Budget director Mick Mulvaney stated when announcing the budget proposals, "Regarding the question as to climate change, the president was fairly straightforward. We're not spending money on that anymore."
Trump signed a sweeping Executive Order in late March, directing EPA Administrator Scott Pruitt to begin the process of undoing the Clean Power Plan and end a federal moratorium on new coal mining on federal lands.
The president recently announced steps to move forward with the Dakota Access and Keystone XL pipelines and roll back fuel efficiency standards for cars and trucks.
The first bill passed by Congress and signed by President Trump struck down an Office of Surface Mining rule aimed at protecting headwater streams.
The budget proposed by President Trump eliminates many hard won programs – including investments in roads, water systems, rural airports, the arts, agriculture, housing, business development, job creation and training, health care and more – that are essential for shaping a just transition for affected worker and communities.  
Trump's hostility to responsible climate policies – which is shared by many Kentucky politicians – throws water on the booming clean energy economy and restricts Kentucky's potential to expand clean energy jobs and investments here at home. In fact, doubling down on fossil fuels is expected to produce worse outcomes for Kentuckians over the next 15 years than taking steady steps – starting now – to expand no-regrets solutions like energy efficiency and renewable energy.
Meanwhile, in mid-April KFTC will release the Empower Kentucky Plan showing steps Kentucky can take, with or without the Clean Power Plan, to move towards a just clean energy economy. The plan, which has been developed by KFTC members over nearly two years with extensive public input, generates more jobs, less health-harming pollution, and lower average bills than the business-as-usual case. The Empower Kentucky Plan will show that it is entirely possible for Kentucky to invest in a just transition for workers and reduce average bills, while significantly reducing harmful CO2 pollution from our power sector.
As Steve Wilkins described, "We have a new model. It looks different than any of us could have predicted. This plan shows Kentucky could dramatically increase jobs and keep bills lower than a business-as-usual scenario, while dramatically reducing the carbon footprint of our commonwealth. Solar and wind would play a larger part in our energy production. Coal plants would still operate with far fewer closures than some expected, but those plants would operate at lower levels than they do now."
"The Clean Power Plan is not the reason miners in Kentucky lost their jobs, and reversing this rule will not bring those jobs back," added Dana Beasley Brown. "As Kentuckians, we have to work for the kinds of solutions we know can provide good jobs, allow people to stay and live in their communities, take care of their families, and not have to make the choice between being healthy and having a good job."
"Here in Kentucky, we've got an chance to create new jobs. Energy efficiency and renewable energy are two of the fastest growing parts of the U.S. economy," noted Lexington KFTC member Sharon Murphy. "Our plan, which will be released in the next few weeks, creates more jobs than just doing business as usual over the next 15 years. When solutions are better for health, better for jobs, better for ratepayers, and better for our climate – everybody wins."
Trump's anti-climate policies also run counter to scientific reality and abandon our moral obligation to provide a stable climate for future generations. His moves take us in the opposite direction from recommendations made by major associations of banks, insurance companies, international climate panels, public health agencies, and the U.S. military. All of those groups have all argued that climate change is already causing harm to the US and world economy, public health, and global stability. They share a broad consensus that the harmful consequences of unchecked climate pollution will accelerate over the next 50-100 years. And they have all argued that sustained investments are needed, starting now, to avoid disasters and prevent much more expensive and extreme measures later.
Underscoring that point, 2016 was the warmest year in recorded history, according to the National Ocean and Atmospheric Administration (NOAA), and the third consecutive record-breaking year. And the American Public Health Association has declared 2017 the "Year of Climate Change and Health," in an effort to highlight the many harmful consequences of rising global temperatures, including food and water shortages, the spread of insect diseases, and increased deaths and illness from heat, pollution, and severe weather events.
As Chris Porter, a KFTC member from Lexington, notes, "We are in an unprecedented moment, one that requires greater collaboration and commitments to change, all on a vastly truncated timeline; but the smug indifference and ignorance of our elected officials are taking us in the completely opposite direction."
Here's how you can join KFTC members who are taking action:
In mid-April KFTC will release the Empower Kentucky Plan, a people's energy plan for Kentucky that will be better for jobs, health, and pollution than the business-as-usual approach, prioritize clean energy investments in low-income communities, and invest hundreds of millions of dollars in a just transition for affected workers and communities.
KFTC is also helping to organizing turnout for a Rally for Equality and American Values in Pikeville, Kentucky on April 29, the same day as the climate march. This rally is being planned as a show of anti-racist unity at a time when white supremacist groups are gathering in eastern Kentucky. 
We will host a statewide strategy call on Thursday, May 18 at 8 pm to discuss follow-up actions to advance the Empower Kentucky plan here at home and resist harmful federal actions. Call-in information will be shared soon.
May 16, 2021
| Lexington Herald-Leader
April 27, 2021
| The Courier-Journal
April 8, 2021
| Lexington Herald-Leader
Featured Posts
Meredith Wadlington on September 22, 2020
Lisa Abbott on June 9, 2020
Caitlin Sparks on May 9, 2020
© 2023 Kentuckians For The Commonwealth