Rally for voting rights in Frankfort today
Posted by: Amy Hogg on March 6, 2013 at 05:04pm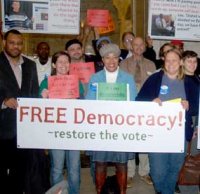 Despite snowy weather, about 260 people raised their voices for voting rights at a rally and lobby day Wednesday at the state capitol in Frankfort.
Several former felons took the podium to share their stories and urge passage of House Bill 70, which would restore voting rights to most former felons once they've served their debt to society. Kentucky is one of the most restrictive states, requiring former felons to obtain an individual pardon from the governor in order to regain their right to vote.
Aileen Bryant of Louisville recalled that at one time she was told she'd never amount to anything. "Today I am somebody," she said. She urged those gathered to talk to their legislators about House Bill 70. "We need to let them know we deserve that right. Don't give up."
Michael Hiser of Bullitt County said he has obtained his bachelor's degree and is working on a master's degree since serving his time. He has regained custody of his children and paid $15,000 in back taxes. But he still can't vote.
Ed West, another former felon, said it feels good to be a citizen again, even paying taxes. "It feels good to be responsible and be able to pay a debt." But gaining voting rights for former felons will take a powerful movement. "We need to continue to voice such powerful voices."
KFTC member Tayna Fogle, who emceed the rally, said she wants to set an example for her two children and seven grandchildren. "I want them to be able to believe in this democracy."
For each of the past several years, including this year, the bill has passed the Kentucky House by a comfortable margin before stalling in the Senate. Today citizen lobbyists focused on talking with senators and urging them to support the bill.
They visited with dozens of lawmakers and left hundreds of postcards for Senate President Robert Stivers.
May 16, 2021
| Lexington Herald-Leader
April 27, 2021
| The Courier-Journal
April 8, 2021
| Lexington Herald-Leader
Featured Posts
Meredith Wadlington on September 22, 2020
Lisa Abbott on June 9, 2020
Caitlin Sparks on May 9, 2020
© 2023 Kentuckians For The Commonwealth