Week in Washington report from KFTC delegation
Posted by: Carey Henson on May 14, 2013 at 05:27pm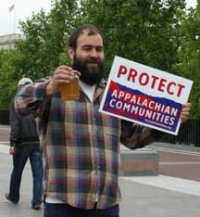 A group of KFTC members, along with about 35 fellow Appalachians, made their voices heard in the fight against mountaintop removal mining at the 8th annual Week in Washington. Alliance members were joined by more than 40 allies from across the country. Many of these folks return to their home states to educate others about the problems facing Appalachia and speak out against mountaintop removal throughout the year.
There were several goals for this year's Week in Washington: lobby for support of HR 1837, the Clean Water Protection Act (CWPA); ask the EPA to establish a numeric conductivity standard for streams; and meet with federal agencies to talk about coal issues and economic transition in Appalachia.
We had a great meeting with John Yarmuth (D-3rd), who continues to cosponsor the CWPA, and thanked him for all of his support. Freshman congressman Andy Barr (R-6th) talked personally with a group of his constituents. He seemed very interested in having ongoing discussions about economic transition in Appalachia, as did the staff of Thomas Massie (R-4th). KFTC members also met with staff members from the offices of Hal Rogers (R-5th), Brett Guthrie (R-2nd), Sen. Mitch McConnell and Sen. Rand Paul.
In just two days, 45 House members from across the country signed on to be cosponsors of the CWPA!
KFTC and other members of the Alliance held meetings with the EPA (including acting administrator Robert Perciasepe) and the Office of Surface Mining Reclamation and Enforcement about environmental impacts of coal mining in Appalachia. In addition, groups consulted with the Appalachian Regional Commission, the Blue-Green Alliance, the AFL-CIO, and the Department of Labor. Many of the discussions centered around developing a strong economic future for the region.
The week was capped with a fundraiser that included live bluegrass music and a silent auction.
The Week in Washington is organized by the Alliance for Appalachia, a coalition with member groups in Kentucky, North Carolina, Tennessee, Virginia and West Virginia.  The Alliance works across the region to develop federal strategies to stop mountaintop removal. KFTC is a founding member.
Appalachia Rising
Ain't gonna let nobody turn me around,
Turn me around, turn me around
Ain't gonna let nobody turn me around
I'm gonna keep on a-walkin',
Keep on a-talkin'
'Til mountaintop removal is banned.

On May 8, residents of Appalachia, along with allies from across the nation, joined together as Appalachia Rising to demand that the U.S. EPA protect drinking water and streams in Appalachia. More than 100 people rallied in front of the EPA offices in Washington. Speakers included Teri Blanton and Nick Mullins from Kentucky; Dustin White from West Virgina; and Jane Branham from Virginia.  The message that all people have the right to clean water was repeated over and over.
Gallons and gallons of orange, grey and black water were deposited on the EPA's doorstep to illustrate the water quality crisis occurring in Appalachia.  Many streams are lifeless. Some communities' well water is so toxic that it can only be used for flushing toilets.  Even municipal water systems have manganese, aluminum and other contaminants. The water was collected from residents' taps, streams, and other mining-impacted sources across the region and brought to Washington.
Demonstrators circled the courtyard carrying gallon jugs of contaminated water, singing, and chanting.  They demanded that EPA officials come out of their offices to accept delivery of the water.   With the support of the crowd, a small group risked arrest by blocking the building entrance, repeatedly calling Nancy Stoner (EPA acting administrator for water) and refusing to leave until she appeared in person.
She Did!!!
In front of the protesters, Nancy Stoner and other EPA officials read Appalachia Rising's petition and accepted the water delivery. Unprecedented!
For more information, go to appalachiarising.org.
May 16, 2021
| Lexington Herald-Leader
April 27, 2021
| The Courier-Journal
April 8, 2021
| Lexington Herald-Leader
Featured Posts
Meredith Wadlington on September 22, 2020
Lisa Abbott on June 9, 2020
Caitlin Sparks on May 9, 2020
© 2023 Kentuckians For The Commonwealth