ORSANCO Hearing (Pittsburgh)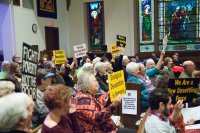 The Ohio River Valley Water Sanitation Commission (ORSANCO) is considering a proposal that would make its Pollution Control Standards voluntary for states to enforce. There will be three public hearings, where people can make a public comment to be recordered in order to encourage the ORSANCO Commission to keep mandatory standards for the entire Ohio River valley.

You can also send your comments via e-mail to [email protected], and can view the changes and background on their website. 
Event Venue:
DoubleTree by Hilton Pitssburgh
Event Location:
500 Mansfield Avenue
Pittsburgh
,
PA
15205
© 2023 Kentuckians For The Commonwealth