A road map to a Just Transition
Posted by: Lisa Abbott on June 9, 2020 at 10:05am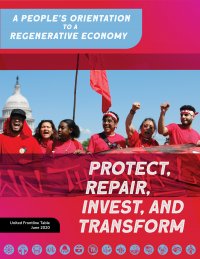 A new report from a diverse set of frontline organizations outlines a set of comprehensive solutions needed to respond to the cascading and interlocking crises our communities face, including the climate crisis, COVID-19, and structural racism and inequality. 
The report, A People's Orientation to a Regenerative Economy, offers community groups, policy advocates, and policymakers a pathway to solutions that work for frontline communities and workers. These ideas have been collectively strategized by community organizations, including KFTC, and leaders from across multiple frontline and grassroots networks and alliances to ensure that regenerative economic solutions and ecological justice.
As KFTC chairperson Cassia Herron observed, "The framing of this report reflects the kind of world we want to live in. It is amazing that even in this moment, people on the frontlines are still leading with vision. This report shows the many ways people are still sacrificing their time and working to create the world we want. It is critically important that people whose blood, sweat, and tears built this nation continue shaping and leading it. In fact, it has always been the most affected folks, people of color, who have shown up and done what needs to be done, with creativity and innovation. It's what we do. And we know that to implement this plan, we need a leader-full approach to co-governance, consistent with the inclusive process that went into creating it."
The report outlines nearly 80 specific policy solutions, organized under a deeply intertwined framework of 14 planks, which include: 
Indigenous and Tribal Sovereignty
Justice for Black Communities
Justice for Immigrant Communities
Just Transition for Workers and Communities
Protections and Investments for Sacrifice Zones and Environmental Justice Communities
Health Care for All
Homes Guarantee
Energy Sources and Pollution Mitigation
Energy Democracy
Food and Land Sovereignty
Equitable, Clean, Emissions-Free Transit
Just Recovery
Invest in a Feminist Economy
Invest in a Regenerative Economy
The groups issuing this report include: Climate Justice Alliance, Right To The City, People's Action, Indigenous Environmental Network, Grassroots Global Justice, and other organizations who have banded together as a United National Frontlines Table working to shape and win Green New Deal policies at the federal, state and local levels and within tribal governments. 
May 16, 2021
| Lexington Herald-Leader
April 27, 2021
| The Courier-Journal
April 8, 2021
| Lexington Herald-Leader
Featured Posts
Meredith Wadlington on September 22, 2020
Lisa Abbott on June 9, 2020
Caitlin Sparks on May 9, 2020
© 2023 Kentuckians For The Commonwealth