Sustainable Energy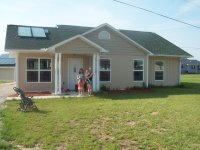 We can curb energy costs and create thousands of new jobs by growing Kentucky's clean energy resources, such as energy efficiency and solar energy. Through KFTC's Sustainable Energy Campaign, we're working to realize this vision in every Kentucky community – from Paducah to Prestonsburg.
Ways you can get involved locally
Across the state, we're transitioning to clean energy in small and large ways. Join this growing movement of Kentuckians taking action for clean energy:
Statewide action through the Kentucky Sustainable Energy Alliance
The Kentucky Sustainable Energy Alliance (KySEA), co-founded in 2009 by KFTC, includes 53 group members, more than half of which are businesses. Alliance members are committed to advancing clean, sustainable and affordable energy solutions for Kentucky. KySEA has actively supported a state energy policy called the Clean Energy Opportunity Act in recent legislative sessions. Your group or business can work for clean energy solutions by joining KySEA today.
© 2023 Kentuckians For The Commonwealth