Kentucky Poor People's Campaign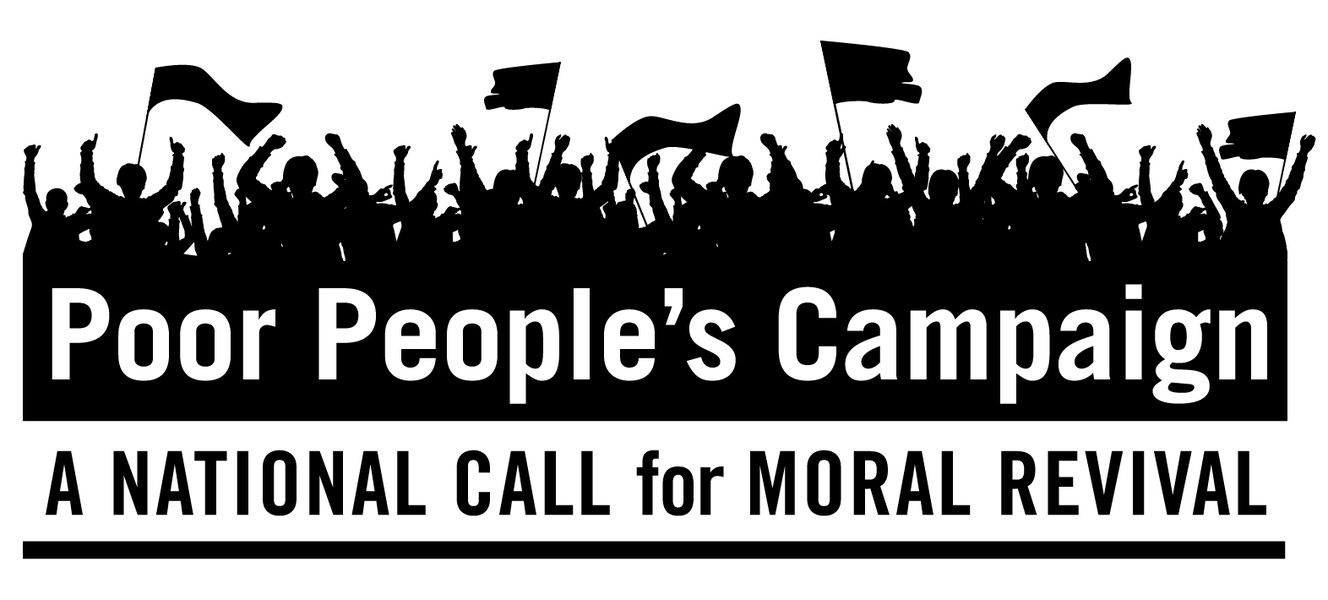 Join Kentuckians and folks from 35 other states in taking our message of racial, economic and environmental justice and a peace economy to our state capitals and nation's capital
We rallied in Frankfort for six weeks and Governor Bevin refused to let us into the Capitol to be heard. Now we take our message to Washington, DC for our next rally and Global Day of Solidarity.
Get on the bus to D.C.
The Kentucky Poor People's Campaign is sending two buses to Washington this coming weekend to participate in the June 23 rally with the Poor People's Campaign: A National Call for A Moral Revival! 
Fundamental Principles:
We are rooted in a moral analysis based on our deepest religious and constitutional values that demand justice for all. Moral revival is necessary to save the heart and soul of our democracy. 
We are committed to lifting up and deepening the leadership of those most affected by systemic racism, poverty, the war economy, and ecological devastation and to building unity across lines of division. 
We believe in the dismantling of unjust criminalization systems that exploit poor communities and communities of color and the transformation of the "War Economy" into a "Peace Economy" that values all humanity. 
We believe that equal protection under the law is non-negotiable. 
We believe that people should not live in or die from poverty in the richest nation ever to exist. Blaming the poor and claiming that the United States does not have an abundance of resources to overcome poverty are false narratives used to perpetuate economic exploitation, exclusion, and deep inequality. 
We recognize the centrality of systemic racism in maintaining economic oppression must be named, detailed and exposed empirically, morally and spiritually. Poverty and economic inequality cannot be understood apart from a society built on white supremacy. 
We aim to shift the distorted moral narrative often promoted by religious extremists in the nation from issues like prayer in school, abortion, and gun rights to one that is concerned with how our society treats the poor, those on the margins, the least of these, LGBTQIA folks, workers, immigrants, the disabled and the sick; equality and representation under the law; and the desire for peace, love and harmony within and among nations.  
We will build up the power of people and state-based movements to serve as a vehicle for a powerful moral movement in the country and to transform the political, economic and moral structures of our society.  
We recognize the need to organize at the state and local level—many of the most regressive policies are being passed at the state level, and these policies will have long and lasting effect, past even executive orders. The movement is not from above but below.  
We will do our work in a non-partisan way—no elected officials or candidates get the stage or serve on the State Organizing Committee of the Campaign. This is not about left and right, Democrat or Republican but about right and wrong.  
We uphold the need to do a season of sustained moral direct action as a way to break through the tweets and shift the moral narrative. We are demonstrating the power of people coming together across issues and geography and putting our bodies on the line to the issues that are affecting us all.  
The Campaign and all its Participants and Endorsers embrace nonviolence. Violent tactics or actions will not be tolerated.   
Speak Out and Action on June 4
Kentucky Poor People's Campaign -
Fourth Week of Action at the state capitol.
Just as Kentucky was ground zero for the war on poverty, Kentuckians are targets of this war on the poor. Right here in Kentucky, we are facing the brunt of unchecked power and greed, with a darkness over Frankfort that rivals the darkness over Washington.
But we are in a moment of great transition – a moral revival. People are fighting back for their lives, communities, and deepest values. The Poor People's Campaign: A National Call for a Moral Revival has taken root in Kentucky, and we're excited to have you involved.
Collectively, the Kentucky effort is made up of community organizations, faith-based organizations, individuals, and congregations that are active on state, local, and federal issues that align with The Poor People's Campaign Moral Framework.
We are working for:
Tax justice and a moral budget,
Environmental justice and just transitions to cleaner economies,
Racial justice and authentically desegregating our communities,
Equitable access to quality educations for every Kentucky child,
And criminal justice reforms that are rooted in justice.
Together, we are creating a Kentucky that we've not yet seen. 
Watch a video from our launch event in Frankfort!
"There was a time when our nation was fighting a war against poverty; now it seems we are waging a war on the poor. Our social fabric is stretched thin by widening income inequality while politicians criminalize the poor, fan the flames of racism and xenophobia to divide the poor, and steal from the poor to give tax breaks to our richest neighbors and budget increases to a bloated military. The twin forces of white supremacy and unchecked corporate greed continue to gain more power and influence, both in state houses across this nation and at the highest levels of our federal government."
– Poor People's Campaign: A National Call for a Moral Revival
Kentucky Poor People's Campaign media coverage
The Appalachian Presence in the Poor People's Campaign by Jessica Wilkerson, Rewire.News
Poor People's Campaign Carries On King, Kennedy Legacies In Ohio Valley by Becca Schimmel, Ohio Valley ReSource


Week of June 18
Week of June 11
Week of June 4

Week of May 14
© 2023 Kentuckians For The Commonwealth