Empower Kentucky Plan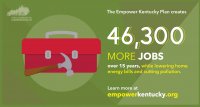 Source/Author:
Kentuckians For The Commonwealth
The Empower Kentucky Plan shows that a Just Transition to a clean energy economy is possible in Kentucky. Shaped with input from more than 1,200 people from Pikeville to Paducah, this plan describes ways we can produce better results in terms of jobs, health, and energy bills, and affected workers and communities - while doing our part to protect our climate. For more information about the Empower Kentucky plan and process, visit www.empowerkentucky.org.
© 2023 Kentuckians For The Commonwealth